On April 24, the "Campus Football Cooperation Project between Kunming and Liverpool" was launched at Kunming No. 3 Middle School.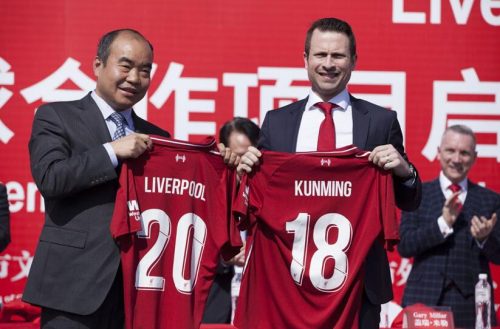 Kunming, China - April 25, 2018 — On April 24, the "Campus Football Cooperation Project between Kunming and Liverpool" was launched at Kunming No. 3 Middle School. Kunming Education Bureau on behalf of Kunming Municipal People's Government concluded the campus football cooperation agreement with British Liverpool FC to further implement the Guidance on Accelerating the Campus Football of Kunming with actions and actively explore the development of campus football in Kunming.
The Overall Plan of Football Reform and Development in China definitely pointed out the necessity and significance of football access to campus and definitely stipulated the "starting from the children" out of slogan. In this critical period of accelerating the construction of a regional international city, Kunming Municipal People's Government decided to conclude an agreement of intent on developing campus football cooperation with Liverpool FC, which signified the campus football in Kunming has accessed a brand-new stage.
Cecille El Beleidi, British Consulate General in Chongqing, Gary Millar, Vice Major of British Liverpool Municipal Government, Wang Yandan, Director of Department of Physical, Health and Arts Education, National Ministry of Education, Zheng Yi, Deputy Director of Education Department of Yunnan Province, Chang Lin, Executive Deputy Director of Yunnan Football Administrative Center, and Wang Jianying, Vice Major of Kunming Municipal Government attended the ceremony.
White, representative of Liverpool FC (President of a football school), Jin Zhiyang, Director of National Campus Football Expert Committee, Li Shubin, National Men's Football Youth Training Supervisor of Chinese Football Association, Xu Yang, former national football team member and famous football commentator, and Peng Weiguo, former national football team member and current Youth Training Supervisor of Guangzhou Football Association attended the launch ceremony of the cooperation project (subject to the present leaders).
As indicated by Wang Jianying, Kunming is the world-renowned Spring City highlighting beautiful scenery and spring feelings all year round. The unique climatic conditions will be greatly conducive to develop endurance exercises, especially football. At present, Kunming is accelerating its construction of a regional international central city. The campus football cooptation project with Liverpool is an important approach for us to intensify the educational exchanges and cooperation, actively introduce advanced overseas educational ideas, optimize the education resources and accelerate the construction of an international central city. This cooperation must lay down a solid foundation on the more extensive and deeper cooperation in the field of economic and culture etc. between both cities.
In February 2016, the Agreement on Establishing Friendly Cooperation Partnership between China Kunming and British Liverpool was entered into by and between British Liverpool City and Kunming City in Kunming, which states that both cities would deepen their cooperation in terms of medical treatment, life science, green energy and important technologies, etc. In June of the same year, the delegation of Kunming Municipal Government attended 2016 International Business Festival and convened "Britain•Kunming Week" of the same period in Liverpool. In October 2016, when the delegation of Liverpool visited Kunming, both parties concluded the friendly cooperation memorandum, which states that both cities agreed to establish the strategic cooperation partnership to develop mutual beneficial cooperation in terms of city renewal, cultural innovation, sports, education, medical treatment and sanitation, etc. Thanks to the unceasingly deepened friendly cooperation and exchanges, continuous exploration of cooperation fields between both parties and the efforts of all parties concerned, the "Campus Football Cooperation Project between Kunming and Liverpool" was achieved naturally.
The "Campus Football Cooperation Project between Kunming and Liverpool" would last for six months, during which 10 schools would be included as the pilot sites for project implementation. As requested by LFC, high-level foreign coaches with valid football coach accreditation card granted by International Football Federation or Association affiliated to FIFA shall be employed to carry out daily training plan, theory explanation, students management, training of Chinese coaches and match organization, etc. As scheduled, the foreign coaches would carry out classroom teaching and team training no less than two hours every week at the project implementation schools respectively in the first four months of project implementation.
Upon introduction, during the period of implementation, the coach education would be carried out in the mode of "theory class + cultural exchanges". As requested by LFC, the training in respect of football tactics, theoretical knowledge and education methods would be carried out; meanwhile, the practice courses would also be arranged when the foreign coaches would demonstrate and teach on site in person. In terms of coach training, different trainings of coaches would be organized strictly according to LCF's requirements on course setting. In addition, senior Chinese professionals or experts in terms of education, psychology and medical treatment, etc. would also be organized to teach the coaches in other fields concerned in hopes that more excellent basic coaches can be cultivated for Kunming campus football by means of such coach education and training.
In addition, as the professional operating team of this cooperation project, Beijing BG Football Club would completely support both parties concerned in cooperation in terms of coach allocation and daily training management so as to guarantee the project to be carried out in a stable, safe and orderly manner, implement the safety responsibility to each principal, and guarantee sound leading role and publicity in the entire course of project implementation during the six months. Thus the project can achieve the expected objectives of Kunming Municipal Government and the project administration party concerned; the campus football coaches can benefit from the project and student players in Kunming can improve their sports skills and be developed in an overall manner.
On the exact day of singing ceremony, hundreds of children from national campus football characteristic schools in Kunming performed cheerleading gymnastics and football skills as well as an 8V8 football match, which have displayed the healthy and sunny image of the youth in Kunming.
Contact Info:
Name: Media Relations
Organization: Kunming and Liverpool
Website: http://www.sohu.com/a/229267764_515187
Release ID: 335658