New weekly leadership livecast launched by NY Times Best Selling author, business coach and speaker James Arthur Ray, who prides himself on helping people to find their inner genius. It focuses on teaching participants how to be their authentic self and achieve their goals.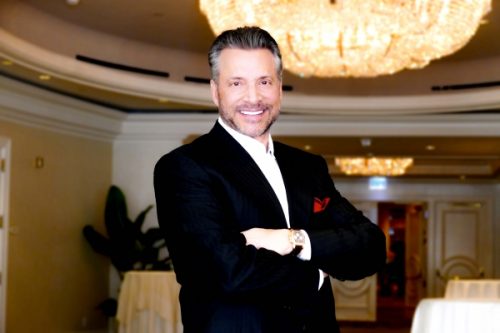 Pompano Beach, United States - August 1, 2017 /PressCable/ —
Leadership expert, speaker and business coach, James Arthur Ray, has launched a new weekly livecast helping people to achieve success in their chosen field. Called Leadership for the Future: Warrior – Leader – Sage, it allows entrepreneurs to connect with him on a weekly basis, where they learn how to lead their lives and businesses in a powerful way; and become more productive with their time.
More information can be found at: https://jamesray.com.
The weekly livecast focuses on helping people to improve their leadership skills. Something that will permeate their entire life, help them be authentic, play to their strengths, achieve their goals, and lead others to authenticity, productivity, and success as well.
Through boosting leadership skills, entrepreneurs can benefit from enhanced self-awareness, self-confidence, and self-command. All three are major factors in the success rate of any businesses and strategy from start-up to leveling up. Courage and self-awareness are the building blocks of any successful venture, and working with James helps leaders and entrepreneurs in any field.
Leadership isn't just about improving self-confidence – it's also about being able to respond well to challenges and tests, turning fear into fuel, and leading by example. Learning with the new livecast on a weekly basis allows entrepreneurs to be able to identify flaws and drawbacks that might otherwise hold them or their team back.
Ultimately Leadership for the Future helps people to rise to challenges, work well as a leader and a member of a team, communicate more clearly, improve productivity and decision making, and achieve new goals.
James Arthur Ray began his career consulting with C-level executives at the AT&T School of Business, before realizing his purpose of helping others to find their inner genius, build their own business, and achieve their goals. Since then he has coached over 1 million people in over 143 countries all over the globe.
The core principles he teaches emphasize the importance of transforming from a Dreamer to a Doer, ultimately achieving more and making dreams and goals come true.
He explains that there are three important aspects of leadership. The first is ensuring someone leads their own authentic life. The second is that leaders have the strength to seek redemption and pay the price; and the third is that true leaders take absolute responsibility for every single thing in their life and business. No exception.
James Arthur Ray is a New York Times bestselling author who has also achieved top honors in the business world as a thriving entrepreneur, business growth expert, and ultimate performance strategist. James' former company hit the Inc. 500 list in 2009 as one of the fastest growing privately held companies in the United States.
He's the author of 5 books including Harmonic Wealth: "The Secret of Attracting the Life You Want" which hit the New York Times Best-Seller List in the first 3 days of release. People Magazine chose Harmonic Wealth as one of the "Top Celebrity Reads."
James co-authored and was featured in the film documentary "The Secret," a ground-breaking feature-length film, and also New York Times bestseller. James has also been featured on Extra, The Today Show, Good Morning America, People Magazine, Fortune Magazine, CNN's Larry King Live, The Oprah Winfrey Show, and Piers Morgan Live.
A CNN documentary on his life entitled "Enlighten Us" debuted at the Tribeca and Telluride Film Festivals in 2016 and is now available on Netflix.
Interested parties wanting access to the weekly leadership livecast can find out more at http://jamesray.com/live-cast.
Facebook : https://www.facebook.com/officialjamesarthurray/
Twitter :https://twitter.com/JamesARay
Contact Info:
Name: Stephan J. Renaud
Email: Send Email
Organization: TALEM OmniMedia
Address: 2280 Northwest 33rd Court, Pompano Beach, Florida 33069, United States
Phone: +1-954-357-3797
Website: http://www.talemomnimedia.com
Source: PressCable
Release ID: 223736