Las Vegas Chiropractor Dr. Devin Luzod appeared on Las Vegas Morning Blend Channel 13 on Friday, March 8, and talked about how to live life pain free.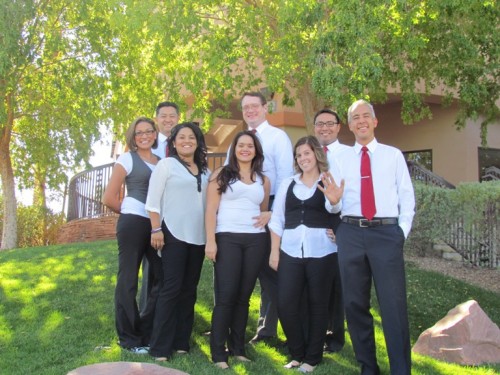 Las Vegas, NV,, USA - - March 19, 2013 /MarketersMedia/ — Dr. Devin of Spinal Care of Nevada appeared on Las Vegas Morning Blend Channel 13 on Friday, March 8 and talked about how to live life pain free. His second appearance on the morning show is set on March 22 at 9:00 am.
Las Vegas Chiropractor Devin Luzod utilizes the NUCCA Chiropractic Method to help people with severe headaches / migraines, lower back pain, neck discomfort, fibromyalgia, disc herniations, carpal tunnel and other uncomfortable persistant medical ailments.
The NUCCA chiropractic procedure is a gentle and safe method of chiropractic treatment, concentrating on long-term results. The NUCCA treatment was created to correct the entire back spine to a balanced unstressed point. In addition to using the NUCCA Chiropractic procedure, Spinal Care of Nevada Chiropractors also utilize other well known chiropractic techniques.
"I base my patient's medical recommendations on proven scientific evidence and bottom line results. Dr. Luzod's efforts achieve both, for me personally and my referred patients. I highly recommend his services for any patient in pain," states Dr. David Yesnick, Las Vegas, NV.
Other alternative treatment choices utilized by Dr. Devin include Low Level Laser© & Therapeutic Stretches. Dr. Luzod and his team help patients in four chiropractic offices: two in Las Vegas, Nevada, one in Henderson, Nevada and one in Salt Lake City, Utah.
Viewers can watch Dr. Luzod on the Las Vegas Morning Blend and discover practical ideas on how to enjoy pain-free living everyday.
About Dr. Devin Luzod:
Dr. Luzod graduated from Life Chiropractic University in Atlanta, GA in 1999, where he was awarded the Sid Ribley Scholarship for outstanding achievement. He previously completed pre-med studies at Western Illinois University on the Dean's List of Scholars.
Dr. Luzod is Part II Certified in the National Upper Cervical Chiropractic Association, served as faculty for the International Low Back Pain Conference, taught Continuing Education at Life Chiropractic College West, is Certified in Chiropractic Pediatrics through the International Chiropractic Pediatric Association and was invited to be a Keynote Speaker at Life Chiropractic College West Homecoming, as well as Palmer Chiropractic College. He has appeared on numerous radio and television programs, has lectured extensively on the NUCCA procedure and holistic wellness, and is the author of "Live to 100... and Want to!"
Contact Info:
Name: Dr. Devin Luzod
Email: Send Email
Organization: Spinal Care of Nevada
Address: 8910 West Tropicana Avenue #6 Las Vegas, NV 89147
Phone: (702) 944-4673
Website: http://drdevin.com
Source URL: https://marketersmedia.com/las-vegas-morning-blend-channel-13-featured-las-vegas-chiropractor-dr-devin-luzod/6636
Source: MarketersMedia
Release ID: 6636