HIPAA compliant email provider Paubox finds healthcare offices are wasting over $80,000 a year by still relying on fax machines as a primary means of medical communications.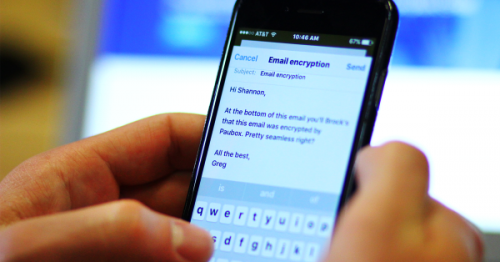 San Francisco, United States - July 12, 2018 /PressCable/ —
San Francisco, CA – March 21, 2018 – Despite the proliferation of online solutions, interoperability options, and 2009's Health Information Technology for Economic and Clinical Health (HITECH) Act, faxing has retained its stronghold on the healthcare industry. But at what cost?
Paubox, a HIPAA compliant email provider, did the math based on recent research and estimates a 10-person office can save $83,430 per year by eliminating faxes and using email instead.
In their newly released whitepaper, Paubox used data from the most recent research available on number of faxes sent each year and conservatively found 15 billion faxes are sent each year according to HIMSS.
The extra time it takes to prepare and send a fax compared to sending an email becomes a huge opportunity cost in manpower and operational efficiency.
Despite this known deficiency, healthcare remains stuck to fax because of the hesitation to have health systems and electronic health record (EHR) platforms to share data. This makes email a natural solution, but HIPAA regulations and increasing violations and fines have prevented a smooth transition.
"There is a lot of confusion around email security, especially since email is not really secure end-to-end without adding on an additional layer of security," said Hoala Greevy, Paubox Founder CEO. "Consumer email and even business email like G Suite can't secure every email out-of-the-box. That's because email prioritizes delivery over security by default, so you need an encryption solution like Paubox to make every email secure."
Resistance to change is also a barrier to eliminating faxes from healthcare offices.
"We have a senior care provider as a customer who wants to go paperless," said Greevy. "But even though we've secured all the emails he sends out, a lot of their referring physicians and resident's primary care physicians don't have HIPAA compliant email and still insist on using faxes."
To see the full whitepaper and see how the estimates are calculated, visit: https://try.paubox.com/kill-the-fax.
About Paubox
Paubox is the leading provider of HIPAA compliant email. Paubox redefines secure email by eliminating cumbersome extra steps for senders and recipients. No portals. No plugins. No extra steps. Just secure email. Paubox integrates seamlessly with G Suite, Office 365 and other email platforms. Paubox is the only secure email provider that includes zero-step encryption on all sent emails. This allows users do not have to change behavior to send emails. Recipients also enjoy a seamless experience and can read email messages and attachments securely right in their inbox.
Contact Info:
Name: Rick
Email: Send Email
Organization: Paubox
Address: 981 Mission Street, San Francisco, CA 94103, United States
Website: https://www.paubox.com
Source: PressCable
Release ID: 376298