Just Fitter's recently launched Ketone Test Strips pack of fifty is now up for sale in Amazon.com. This conveniently designed re-sealable pack of the already popular product has been launched based on customer feedback.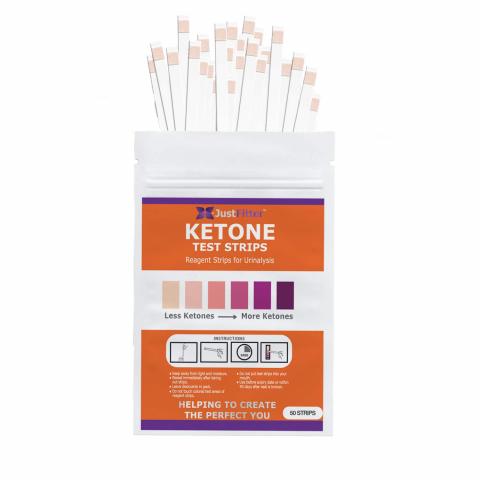 Chicago, United States - February 12, 2019 /PressCable/ —
Ketone Test Strips, a popular product from Just Fitter, is now selling successfully in Amazon.com in its new packaging that contains fifty testing strips in each re-sealable pack. This product was previously available in packs with one hundred and fifty strips, and the new pack of fifty has been introduced to provide a more convenient and handy option to the users. The new KET 50 from Just Fitter can now be purchased in Amazon for an introductory price of $5.00.
To find out more about Just Fitter Ketone Test Strips pack of 50, please visit:Just Fitter on amazon.com
Ketone testing strips are used for a wide range of applications. However, the most popular use of this home testing tool is to help ascertain the ketonic state of the human body. By measuring the concentration of ketone in urine, these strips can function as a reliable guide for individuals following a keto style fat loss diet.
Also known as ketone body, ketone is an organic compound that proteins and fats are largely made of. In its normal state, the human body runs on glucose it receives from the consumed food. When the body has an insufficient amount of glucose due to illness or starvation, or if glucose can't be used due to the lack of insulin, the body starts burning fat for energy. Ketones are produced as a by product of this breakdown process, and passed into the blood and urine.
The build-up of ketones in the body is called ketosis and the goal of keto style fat loss diets is to reach this state as early as possible. Many low-carb diets create ketosis on purpose, as it is an excellent indicator of fat burning and weight loss. It has been observed that an average and healthy individual can reach ketosis in just a few days by limiting the consumption of carbohydrates to 5% of total calories or approximately twenty grams per day.
All modern day diet plans make use of ketosis to ensure steady and healthy weight loss. However, they also require a reliable tool to keep a track of the ketonic state of the body. Ketone test strips are used by thousands of people for this purpose because this is the most convenient alternative to monitoring the ketone level of the body. In addition to this, regular assessment of the ketone level is also required for proper management of type 1 diabetes.
The testing strips from Just Fitter are manufactured using Sodium Nitroprusside 7.1% W/W, on a PVA plastic strip. The packs have an unopened shelf life of two years. However, the company informs that all the strips must be used up within 60-90 days from opening the seal.
"Our new Ketone Test Strips pack of fifty has just hit Amazon and the response so far has been excellent," said a senior spokesperson from Just Fitter".
To find out more about Just Fitter Ketone Test Strips pack of 50, please visit: Just Fitter on amazon.com
About Just Fitter: Founded in 2014, Just Fitter is dedicated to helping people achieve their best physical, mental, and spiritual health by encouraging them to embrace the benefits of a Keto diet lifestyle. Partnering with some of the best doctors, chemists, and nutrition scientists, the company has already helped thousands of people improve their lives in many ways including going Keto. Just Fitter also runs a popular Facebook page called createtheperfectyou, dedicated to helping people adopt the Keto lifestyle.
Contact Info:
Name: Michael Ford
Email: Send Email
Organization: Just Fitter
Address: PO Box 803338 # 57363, Chicago, IL 60680, United States
Phone: +1-888-297-8388
Website: http://www.justfitter.com
Source: PressCable
Release ID: 478885