GoalFoods, a healthy snack company, has combined power foods rich in antioxidants into delicious dark chocolate mocha keto fat bombs. The brand uses only clean ingredients that are vegan-friendly and gluten-free.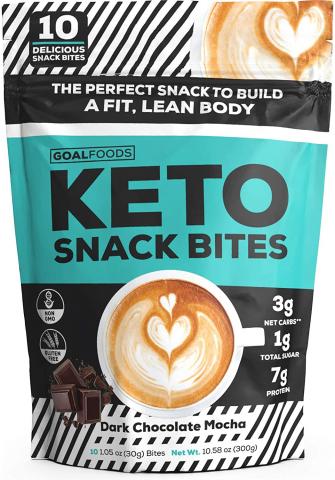 Houston, United States - May 1, 2020 /NewsNetwork/ —
Healthy snack company, GoalFoods, has researched and sourced the latest power foods to develop recipes that satisfy every craving without compromising health and fitness goals. The brand's keto fat bombs are loaded with antioxidant-rich ingredients for a clean, smart and delicious snack. "Reaching goals is hard enough, in lifestyle, in workouts and in fitness. When you reach for a snack, it should help, not hinder. It should fuel your fitness goals," says a senior spokesperson for the brand, Jeanne M. Andrews.
For more information on keto snack bars, visit: https://www.amazon.com/keto-fat-bombs/dp/B08545VK2W
Antioxidants are molecules that fight and neutralize free radicals, unstable molecules that can damage the cells in the body. They form when atoms or molecules gain or lose electrons and occur as a result of normal metabolic processes or environmental factors, such as pollutants and excessive sun exposure. Free radicals may play a role in heart disease, cancer and other diseases. To avoid free radical damage, a diet of antioxidant-rich whole food is essential for optimal health.
The brand has sourced antioxidant-rich ingredients, such as organic cocoa, coffee, cacao chips and almond butter, to create the dark chocolate mocha keto bites that have consumers excited. One reviewer comments, "I've tried so many different brands of protein bars over the years, that I didn't think there could be a delicious one. Some types are less bad-tasting than others, but none are enjoyable. All I can say about GoalFoods' protein bars is WOW. This has been an excellent meal replacement protein bar for my busy schedule. I'm buying my third pack!"
The brand's gluten-free snacks are made with only clean, non-GMO ingredients and contain 7 grams of protein and 3 net carbs. One package comes with 10 individually wrapped snack bites for maximum on-the-go convenience. Suitable as a snack for children and adults, as a meal replacement or part of a healthy weight loss diet plan.
Those interested in learning more about GoalFoods' gluten-free snacks can visit the company's official website or Amazon storefront.
Contact Info:
Name: Craig Romero
Email: Send Email
Organization: GoalFoods
Address: 3262 Westheimer Rd Houston, Texas United States 77098, Houston, Texas 77098, United States
Website: http://www.goalfoods.com
Source: NewsNetwork
Release ID: 88955904