Keiser University campuses to host free "Scare Fair" Open Houses throughout Florida for families on October 30th as a way to give back to their local communities.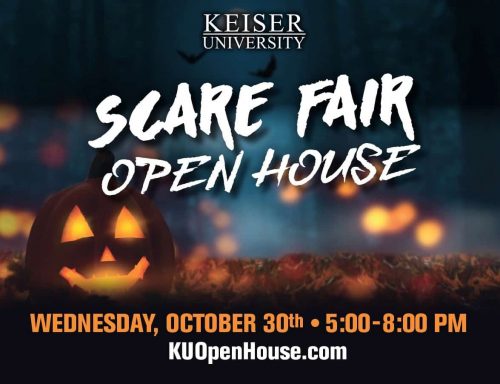 Fort Lauderdale, Florida, United States - October 17, 2019 /MarketersMedia/ — Keiser University will host its Annual Scare Fair Open Houses statewide on Wednesday, October 30, 2019, from 5:00 PM – 8:00 PM at 17 of its Florida campuses. Attendees are encouraged to dress in costumes as the campuses celebrate Halloween in Keiser University fashion.
Keiser has hosted Scare Fair events for the past several years at all of its Florida campuses. The festivities provide an opportunity for the university to give back to the communities they serve. Some campus events are sponsored in part by local businesses in the community.
"We're excited to welcome our local communities to Keiser University's annual Scare Fair events throughout Florida," said Belinda Keiser, Vice Chancellor of Community Relations and Students Advancement. "With the support of the communities we serve, these events continue to be a fun and "spooky" way for parents and families to celebrate Halloween."
Each year a different theme is selected with each campus featuring their own unique twist. Costumes are embraced at all campuses and the events welcome the local community with games, prizes, entertainment, and food & refreshments. The list below shows the participating Keiser University campuses. For more information on these open house events, call 1-888-844-8404 or visit www.KUOpenHouse.com.
Keiser University—Clearwater
16120 US Hwy 19 North
Clearwater, FL 33764
WFLZ 93.3 Hit Music Channel will join in the spooktacular fun. Guests can enjoy a spine-chilling elevator ride, mummy-filled medical labs, a Headless Horseman scavenger hunt, a pumpkin carving contest, and a tricky "trunk-or-treat" sponsored by community partners.
Contact: (727) 373-1380
Keiser University—Daytona Beach
1800 Business Park Blvd
Daytona Beach, FL 32114
WVYB 103.3 The Vibe and spooky-scary DJ Tremble will be on hand for a Halloween costume contest, eerie haunted house, a not-so-frightening bounce house, and a "trunk-or-treat" for parents and kids.
Contact: (386) 274-5060
Keiser University—Fort Lauderdale
1500 NW 49th Street
Fort Lauderdale, FL 33309
WFLC Hits 97.3 will be part of the Fort Lauderdale spooktacular fun. Kids and parents will enjoy trick-or-treating throughout the campus, in addition to scary movie viewing and Halloween treats and refreshments. Costumes are welcome!
Contact: (954) 776-4456
Keiser University—Fort Myers
9100 Forum Corporate Pkwy
Fort Myers, FL 33905
WZJZ Y100 will be on hand to broadcast all the Halloween fun including a not-so-scary costume contest, local food trucks, and a "trunk-or-treat" event for kids and parents.
Contact: (239) 277-1336
Keiser University—Jacksonville
6430 Southpoint Pkwy
Jacksonville, FL 32216
WKSL 97.9 KISS FM will share in the spooky fun. Guests can experience an Escape Room and haunted house, trick-or-treating on campus for kids and adults, the KU Haunted Nursing Lab, and a costume trunk exchange. OneBlood's Big Red Bus will also be on hand to accept donations.
Contact: (904) 296-3440
Keiser University—Lakeland
2400 Interstate Drive
Lakeland, FL 33805
WLLD WiLD 94.1 will be part of the fun. Guests can enjoy an evening of "trunk-or-treating", a costume contest for both kids and adults, in addition to games, prizes, entertainment, and refreshments.
Contact: (863) 682-6020
Keiser University—Melbourne
900 S. Babcock Street
Melbourne, FL 32901
WFKS 95.1 KISS and DJ Wingnut will join in for some seriously spooky fun. Guests can enjoy scary movies and "trunk-or-treating." Kids can take part in Mad Scientist DNA Necklace making and creepy bounce houses, while adults participate in Halloween culinary demonstrations featuring safe and healthy snacks by Dietetics and Nutrition Lab. OneBlood's Big Red Bus will also be on hand to accept donations.
Contact: (321) 409-4800
Keiser University—Miami
2101 NW 117th Ave
Miami, FL 33172
WFLC HITS 97.3 will be in attendance for the spooktactular fun. Guests can enjoy a Halloween photo station and a haunted house. Children can hear Halloween music and scary stories, watch not-so-scary movies, and take part in a trick-or-treating from office to office.
Contact: (305) 596-2226
Keiser University—Naples
1336 Creekside Blvd, Suite 2
Naples, FL 34108
WBTT 105.5 The Beat will bring the spookiness to Naples. Visitors can take part in trick-or-treating, have their pictures taken in the Scarecrow Pumpkin Patch, visit the Simulation Cemetery, and other "fangtastic" fun!
Contact: (239) 513-1135
Keiser University—New Port Richey
6014 Hwy 19 North, Suite 250
New Port Richey, FL 34652
WQYK-FM 99.5 will be part of some spooky fun. Guests can participate in costume contests, trick-or-treating, and pumpkin decorating. Bountiful games, prizes, entertainment, and Halloween-themed refreshments will be prepared.
Contact: (727) 484-3110
Keiser University—Orlando
5600 Lake Underhill Rd
Orlando, FL 32807
WOMX Mix 105.1 and Adam Alexander from The Morning Mix will join in the spooktacular fun. Frightfully fun activities include "trunk-or-treating," bounce houses, face painting, balloon animals, and adult & children costume contests.
Contact: (407) 273-5800
Keiser University—Pembroke Pines
1640 SW 145th Ave
Pembroke Pines, FL 33027
WZTU 94.9 brings the Halloween music, while guests enjoy a haunted house, face painting, toss game challenges, horrific video game play, trick-or-treating, a haunted kid's corner, and Halloween movies and popcorn for kids.
Contact: (954) 431-4300
Keiser University—Port St. Lucie
9400 SW Discovery Way
Port St. Lucie, FL 34952
WMBX X102.3 and Reggie Dee will be present at Port St. Lucie's Scare Fair. Guests can take part in a haunted house, face painting, trick-or-treating with goodie bags for kids, and a Just Boo-tiful Photo Booth.
Contact: (772) 398-9990
Keiser University—Sarasota
6151 Lake Osprey Drive
Sarasota, FL 34240
WCTQ 92.1 Suncoast Country will join in for all the Halloween fun. Guests can enjoy face painting, games and crafts, a haunted house, and trick-or-treating.
Contact: (941) 907-3900
Keiser University—Tallahassee
1700 Halstead Blvd, Building 2
Tallahassee, FL 32309
WWLD Blazin' 102.3 will be on hand for the excitement. Activities for all ages include haunted halls, trick-or-treating, fortune telling, face painting, a costume contest at 6:30pm, and Halloween cookie decorating.
Contact: (850) 906-9494
Keiser University—Tampa
5002 West Waters Ave
Tampa, FL 33634
WRUB 106.5 Rumba brings the Halloween fun to Tampa. Guests can participate in trick-or-treating, a tour of the KU Tampa's Haunted Hospital, face painting, as well as music, games and refreshments.
Contact: (813) 885-4900
Keiser University—West Palm Beach
2085 Vista Parkway
West Palm Beach, FL 33411
iHeart Radio's WRLX 92.1 MIA will provide the spooky music. Guests can walk the haunted hallways and visit rooms magically transformed into classic movie or TV scenes. Spooky storytelling, a spine-chilling scavenger hunt, and trick-or treating will occur as well.
Contact: (561) 471-6000
About Keiser University
Keiser University is a private, not-for-profit university, serving nearly 20,000 students and employing 3,800 faculty and staff members. Co-founded in 1977 by Chancellor Arthur Keiser, Ph.D., and Evelyn Keiser, the university currently offers more than 100 degrees at 21 Florida campuses, as well as online and at two international sites.
Keiser University is accredited by the Southern Association of Colleges and Schools Commission on Colleges as a level VI institution to award certificates and degrees at the associate, baccalaureate, masters, specialist, and doctoral levels.
For additional information regarding Keiser University, visit www.keiseruniversity.edu
Contact Info:
Name: Jeff LaLiberte
Email: Send Email
Organization: Keiser University
Address: 1500 NW 49th St, Fort Lauderdale, FL 33309
Phone: (954) 821-3986
Website: http://www.KeiserUniversity.edu
Video URL: https://youtu.be/cK6DPTkohfs
Source URL: https://marketersmedia.com/keiser-university-to-host-annual-scare-fair-statewide-in-florida/88928587
Source: MarketersMedia
Release ID: 88928587