Keiser University has created "Keiser U Cares 4 U" to provide fundraising for First Responders of Hurricane Michael. This relief effort will be rolled out at their annual "Scare Fair Open Houses" throughout the state of Florida.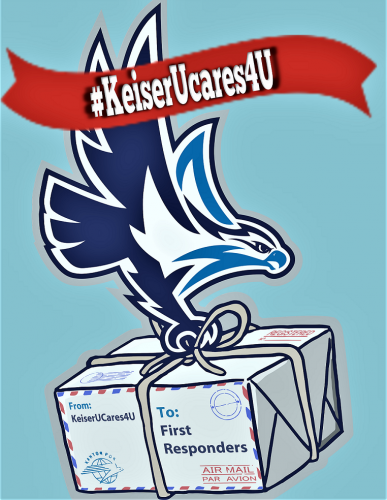 Fort Lauderdale, FL, United States - October 22, 2018 /MarketersMedia/ — Keiser University is committed to helping those impacted by Hurricane Michael. The University is launching "Keiser U Cares 4 U," a statewide fundraising effort, at its annual Scare Fair Open Houses on Wed., Oct. 24, 2018 from 5:00 p.m. until 8:00 p.m. at 16 of its Florida campuses.
The first phase of this relief effort is to provide aid to the First Responders who are on the ground trying to help people impacted by Hurricane Michael. Many of Keiser University's graduates are in the fields of firefighting, healthcare, law enforcement, and other 'first responder' roles. In addition, 20 percent of Keiser's students are either veterans, active duty or military family members.
"These rescue workers, firefighters, paramedics, military members, and police officers are working tirelessly to be of service to all of those who need rescue, shelter and other recovery efforts," said Belinda Keiser, Vice Chancellor of Community Relations and Student Advancement. "We see and hear about first responders working nonstop, and in many cases, putting aside repairs to their own homes or leaving their families for weeks at a time to provide care and assistance to others. We want to make sure their needs are met and their efforts appreciated."
Each of the following campus locations will be open for their annual "Scare Fair," but will also have fundraisers present for any who wish to donate to this ongoing "Keiser U Cares 4 U" relief effort. Check the list below for participating Keiser University campuses. For more information on the Scare Fair Open House events, call 1-888-844-8404 or visit www.KUOpenHouse.com.
Keiser University
16120 US Hwy 19 North
Clearwater, FL 33764
Questions? Call (727) 373-1380
Keiser University
1800 Business Park Blvd
Daytona Beach, FL 32114
Questions? Call (386) 274-5060
Keiser University
1500 NW 49th Street
Fort Lauderdale, FL 33309
Questions? Call (239) 776-4456
Keiser University
9100 Forum Corporate Pkwy
Fort Myers, FL 33905
Questions? Call (239) 277-1336
Keiser University
6430 Southpoint Pkwy
Jacksonville, FL 32216
Questions? Call (904) 296-3440
Keiser University
2400 Interstate Drive
Lakeland, FL 33805
Questions? Call (863) 682-6020
Keiser University
900 S. Babcock Street
Melbourne, FL 32901
Questions? Call (321) 409-4800
Keiser University
2101 NW 117th Ave
Miami, FL 33172
Questions? Call (305) 596-2226
Keiser University
6014 Hwy 19 North, Suite 250
New Port Richey, FL 34652
Questions? Call (727) 484-3110
Keiser University
5600 Lake Underhill Rd.
Orlando, FL 32807
Questions? Call (407) 273-5800
Keiser University
1640 SW 145th Ave.
Pembroke Pines, FL 33027
Questions? Call (954) 431-4300
Keiser University
9400 SW Discovery Way
Port Saint Lucie, FL 34987
Questions? Call (772) 398-9990
Keiser University
6151 Lake Osprey Drive
Sarasota, FL 34240
Questions? Call (941) 907-3900
Keiser University
1700 Halstead Blvd
Tallahassee, FL 32309
Questions? Call (850) 906-9494
Keiser University
5002 West Waters Ave
Tampa, FL 33634
Questions? Call (813) 885-4900
Keiser University
2085 Vista Parkway
West Palm Beach, FL 33411
Questions? Call (561) 471-6000
About Keiser University
Co-founded in 1977 by Chancellor Arthur Keiser, Ph.D., Keiser University is a private, not-for-profit university serving nearly 20,000 students offering more than 100 degrees at the doctoral through associate level on 21 Florida campuses, online and internationally, and employing 3,800 staff and faculty.
Keiser University is accredited by the Southern Association of Colleges and Schools Commission on Colleges to award certificates and degrees at the associate, baccalaureate, masters, specialist, and doctoral levels.
For additional information regarding Keiser University, visit www.keiseruniversity.edu.
Contact Info:
Name: Dianne Anderson
Email: Send Email
Organization: Keiser University
Address: 1500 NW 49th Street, Fort Lauderdale, FL 33309
Phone: (954) 801-6538
Website: http://www.KeiserUniversity.edu
Video URL: https://youtu.be/cK6DPTkohfs
Source URL: https://marketersmedia.com/keiser-university-adds-fundraiser-to-annual-scare-fairs-across-florida-to-aid-first-responders-of-hurricane-michael/428012
Source: MarketersMedia
Release ID: 428012