Keep It Camo has published new articles covering camouflage wedding dresses and rings to show that for military enthusiasts, there really is everything one could wish for.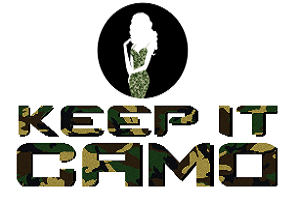 Antioch, FL,, United States of America - - October 15, 2014 /MarketersMEDIA/ — Camouflage serves a wide range of practical functions, helping people blend into their surroundings and break up their silhouette so as animals or other people can't identify them. Camouflage has also become an icon in itself, and is used by enthusiasts to identify themselves with a whole culture and style of living. As a result, there is now a camouflage version of almost everything, and Keep It Camo exists to keep track of these for camo lovers. Their latest articles include what might be the most important developments yet: camo wedding dresses and rings.
The camo wedding rings article showcases the engagement and wedding bands for men and women available in black silver and gold. The article also provides helpful buying advice for engagement rings of all kinds but also shows how camo can be integrated into almost any ring design.
The camo wedding dress article shows that not only can brides get a camouflage wedding dress but a matching suit can be tailored to the groom, allowing both partners to express their love of the outdoors in their clothing, through a huge variety of styles and iterations, some of which use camo as an accent and some of which incorporate it as the main body.
A spokesperson for Keep It Camo explained, "We feel confident in saying that it was only a matter of time until camo bridal wear came into existence, and we are thrilled to be able to provide coverage of this emerging trend as it arises. The incorporation of camo into jewelry is another amazing innovation and we believe our article gives a comprehensive accounting of how this can benefit those who love camo patterns, without overwhelming the intention of the original jewelry. The site is regularly updated with new trends and so we advise users to bookmark us and check back regularly for new innovations."
About Keep It Camo: Keep It Camo is a site focused on everything camouflage related. The site is useful to a huge range of people including military fans, hunting enthusiasts, country folk and more. The site is regularly updated with new ideas and inspiration, reviews and more to keep camo lovers up to date on the latest innovations.
Contact Info:
Name: Tammy Patterson
Email: Send Email
Organization: Keep It Camo
Phone: 813-716-4669
Website: http://www.keepitcamo.com/
Source URL: https://marketersmedia.com/keepitcamo-com-publishes-a-guide-to-camo-wedding-dresses-and-rings/66044
Source: MarketersMEDIA
Release ID: 66044