Kansas City-based residential and commercial plumbing repair company operated by John Hunt aka 'John the Plumber' takes pride in offering fast, same-day solutions for all KC plumbing problems.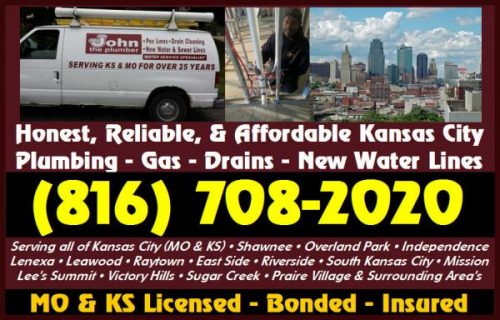 Kansas City, United States - September 18, 2019 /PressCable/ —
John the Plumber, a Kansas City, Missouri-based residential and commercial plumbing repair business operated by John Hunt, routinely stresses its specialization in high-quality water main services, the company having developed a technique for installing and repairing water lines connecting a home with the curb in a fashion that does not damage a lawn or landscaping. Additionally, JTP brings more than 30 years of experience as a licensed, bonded and insured Missouri/Kansas plumbing services operation to the surrounding areas of Grandview, Shawnee, Overland Park and Independence, offering fast, same-day solutions for all problems – from drain cleaning and water heaters to water and sewer line repairs, gas line services and more.
"Our slogan – that no job is too big – extends to everything our plumbers do, including making good on our mission to protect the health of KC residents by installing appropriate water supply and sewage draining apparatus," explains Hunt. "In the over 30 years we've been doing this, there has never been a clogged drain that we could not clear, a sewer line we could not fix or a main water line break we could not find.
For more information visit https://JohnThePlumberKansasCity.com/
"Indeed, as a local family-owned-and-operated plumbing services business that understands the importance of our clients' time and satisfaction, we start, maintain and finish every project with premium quality plus fast, friendly and affordable personal service."
Divided amongst four primary areas – cleaning of drains, water heater installation and repair, water line/sewer line repairs and gas pressure testing – JTP's rooter service roster encompasses sewer and drain cleaning, water heater repairs, water line and sewer line solutions, gas pressure tests, gas lines, French drains, sump pumps, plumbing fixtures, valve replacements, kitchen plumbing, bathroom plumbing and general plumbing.
As the company's primary area of expertise, water line repair services focus on water emergencies once damage is deemed significant such as damaged plumbing pipes (aging pipes that have developed cracks and breaks due to deterioration, root invasion, buildup of household discharge or the material pipes are made of like clay or galvanized steel) in addition to sewer line irregularities in the form of roots, cracks, major blockages, leaks and other problems requiring a sewer line replacement or repair.
Regarding cleaning of drains and unclogging services, JTP responds to customer complaints of slow flowing drains, unusual bubbling or gurgling sounds coming from their drains or toilets, foul odors coming from the drains or a complete stoppage of drainage. The company also offers a hydro-jetting (high-pressure cleaning) service for blocked sewer lines, as well as a sewer video camera inspection to visualize what is causing the leak or blockage.
When it comes to water heater repair/replacement, JTP sets up regularly-scheduled routine maintenance to ensure customers' systems operate at peak efficiency, while also offering water heater emergency services to deal with heating coil damages, mineral deposit buildups, cracks, leaks and foul smells. Similarly, the company locates any potential gas leak by way of a gas pressure test, followed by a service to repair the problem and restore safe conditions.
JTP is located at 5963 Paseo Boulevard in KC and can be reached by calling (816) 708-2020.
Contact Info:
Name: John Hunt
Email: Send Email
Organization: John the Plumber LLC
Address: 5963 Paseo Blvd, Kansas City, MO 64110, United States
Phone: +1-816-708-2020
Website: https://johntheplumberkansascity.com/
Source: PressCable
Release ID: 88919965