The current Judge for Division I of the 19th Judicial District Court, Mike Caldwell, seeks to continue his position as Judge.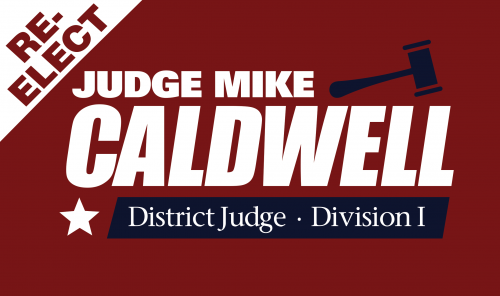 Baton Rouge, CA,, United States of America - - July 23, 2014 /MarketersMedia/ — Mike Caldwell (Republican) today announced his intention to seek reelection to Division I of the 19th Judicial District Court.
In his announcement, Caldwell noted his conservative credentials and record as District Judge. "I am a proud conservative and have demonstrated a conservative judicial philosophy throughout my legal career," Caldwell said.
"Judge Caldwell's legal career is marked with distinction, dedication and respect for the law," said Caldwell Campaign Chairman Dr. J. Benton Dupont. "He brings an unparalleled amount of integrity and honesty not only to the bench, but everything he does."
Recently, on billboards and signs sprouting up all over Baton Rouge, the Caldwell campaign has unveiled its campaign slogan for describing Caldwell's 17 year tenure on the District Court bench as "consistently conservative and dependably honest."
Judge Mike Caldwell is a native of Baton Rouge. He graduated from Tulane University, where he earned a degree in Economics, and LSU Law School. After graduating from law school, he served as a judicial clerk for Judge Louis Doherty.
Prior to being elected District Judge in 1996, Caldwell was in private practice in Baton Rouge. He built up experience in all areas of the law and successfully argued many cases before appellate courts and the Louisiana Supreme Court.
"During my years in private practice, I gained a broad and deep knowledge of all areas of the law as well as an extraordinary insight into the wonderful people of our community," Caldwell stated. "Serving our people was why I decided to run for judge and it remains my motivation for seeking reelection."
After several years serving as judge, in a survey of local attorneys, Caldwell was rated "Highest for Performance" earning high scores for his impartial approach, willingness to listen, and honesty.
Caldwell and his wife, Connie, have been married for 43 years. They are the parents of two daughters, Emily and Lauren, and the proud grandparents of three grandchildren.
He is a Christian and an active member of St. Luke's Episcopal Church.
The election will be held on Tuesday, November 4th. The subdistrict in which he will run is comprised of precincts primarily in South and Southeast East Baton Rouge Parish.
About Mike Caldwell: Mike Caldwell who has been a district judge for 17 years is seeking reelection in Division I of the 19th Judicial District Court which covers a large portion of Baton Rouge. A graduate of Louisiana State University with strong ties to Baton Rouge, Judge Caldwell seeks to continue representing his constituents accurate and fair.
Contact Info:
Name: Matt Braud
Organization: Committee to Re-Elect Judge Caldwell
Phone: 225-335-3392
Source URL: https://marketersmedia.com/judge-mike-caldwell-seeks-for-reelection-in-baton-rouge/55583
For more information, please visit http://www.judgecaldwell.com/
Source: MarketersMedia
Release ID: 55583