China just celebrated its 70th anniversary and it was glorious. To rejoice with his host country, an American teacher living in China, Johann Lewis, helped other expats to join in the celebration, using his own money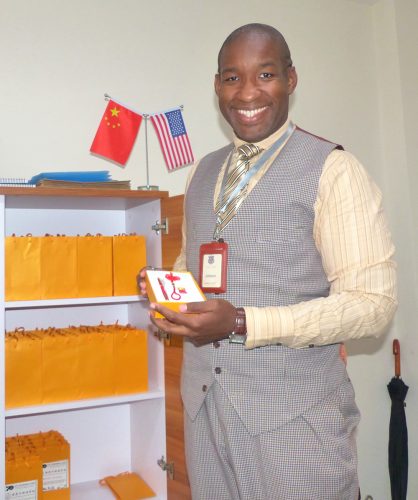 United States - October 9, 2019 — On October 1, 2019, all of China celebrated the 70th Anniversary of the Founding of the People's Republic of China. It was a day of joy and excitement that featured presidential speech, military parades, mass pageantry, and display of China's cultural heritage, in the Chinese capital city of Beijing.
At the Hailiang Foreign Language School, an international school in the (relatively) small city called "Zhuji", American teacher, Johann Lewis, helped the expat teaching staff to celebrate in their own way.
When Johann learned the school had no plans to include its expat teaching staff in the celebrations, he took it upon himself to include them, so they can rejoice with the people.
"The 4th of July is always a huge event back in the USA. It's the time when we can all come together and celebrate for being American. You can especially see the pride and joy in immigrants who are celebrating their first 4th of July as a new U.S. citizen or green-card holder. When I realized that the school had no plans on including its expat teachers in its 70th Anniversary celebration plans, I decided to make a move and include them" Said Johann Lewis, Academic Director of English Curriculum & Instruction at Hailiang Foreign Language School.
Johann Lewis even went further to use his own funds of over 2,500 CNY (over $350 USD) to get gift boxes, which included a red and gold 16 GB school-branded USB flash drive, a red and gold pen, and a Chinese knot keychain.
All of these items were held inside of a personalized box and bag, which was designed, printed, and prepared by Johann himself. The expats all enjoyed the celebration as it gives them even more opportunity to learn about China and their cultural heritage.
About Johann Lewis
Johann Lewis is an American accountant-turned-teacher, currently living in Zhuji, Zhejiang Province, China. He serves as the Academic Director of English Curriculum and Instruction at Hailiang Foreign Language School, a subsidiary of Hailiang Education Management Group. Over the years he has received awards for his work and contribution to providing quality education based on commitment and sacrifice.
For more information, please visit his website.
Contact Info:
Name: Johann Lewis
Email: Send Email
Organization: Hailiang Foreign Language School
Website: http://www.hailiangteacher.net
Release ID: 88926410