MoldyCreations offers unique and surprising artistry to everyday items such as lighters, cups, mugs and shot glasses. The recently updated catalog features sculptures of ghouls, goblins and monsters transformed into useful day-to-day items.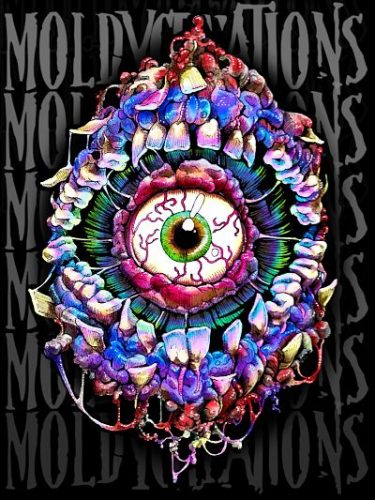 June 18, 2019 / / — MoldyCreations and Joe Rowles are pleased to announce that their website features an ever-growing collection of custom art pieces. The artistic creations are not known for beauty, but for their unique approach to changing the appearance of functional items. The items are sure to create conversation, no matter where they are placed. The sculptures become decorations for a wide range of household items. They are good for gifts, or as featured items in a personal collection.
Moldycreations items are sculpted into a number of ghoulish and monstrous creations, with a strong emphasis on toothy grins, staring eyeballs and open wounds. It doesn't matter what the function of the underlying item is, Joe Rowles manages to incorporate his three-dimensional effects onto the surface of the pieces without destroying the overall usefulness of the item. One example is a mug with horns extending from the top edge. The Goon Mug and Dead Eye Mug both feature this type of appendage.
For more information click here https://www.moldycreations.com
Joe spoke in a recent interview, "All items featured for sale are made to order. Nothing on the website is already made. Your order will be fulfilled in the order in which it is received. Your order will be made and shipped in approximately 4-6 weeks. You should plan ahead for gifts, since holidays can get very busy! MoldyCreations is owned and operated by one person—me! Every item is made one at a time. They are each made by hand and are hand painted."
"Each of the items in my catalog" he explained, "handmade using polymer clay and is hand painted with acrylic paints. I can provide a custom eye color if requested. I cover the entire design with a high gloss protective glaze so that it will last if handled with care. If appropriate, other customizing can be done so that your art piece is one-of-a-kind."
Social Media
www.instagram.com/@moldy.creations
Contact Info:
Name: Joe Rowles
Email: Send Email
Organization: Moldycreations
Phone: (805) 458-2018
Website: https://www.moldycreations.com/
Video URL: https://www.youtube.com/channel/UCo2jjAx5WpRuFC99jZGL6JA
Source URL: https://marketersmedia.com/joe-rowles-releases-new-custom-art-pieces-to-his-online-catalog/525243
Source:
Release ID: 525243