New proposal to build a state-of-the-art, 19-field amateur baseball complex in Pasco County, FL gets endorsement from baseball facilities expert Joe Connor.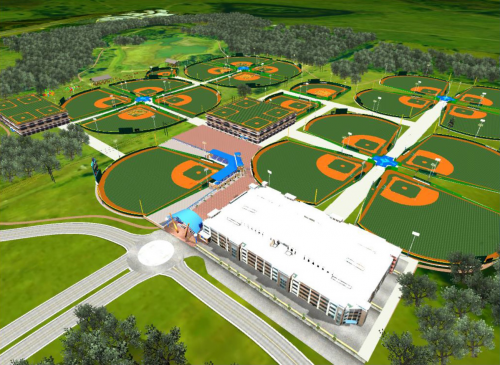 Tampa, FL,, United States of America - - December 2, 2013 /MarketersMedia/ — Joe Connor, a well-known expert on baseball facilities in the U.S. and abroad, today endorsed an ambitious proposal to build a state-of-the-art, 19-field amateur baseball complex in Pasco County, FL. The facility would be designed to attract amateur baseball teams and their families from all across the U.S. to come play their games in Pasco County.
Connor, a contributing sports travel columnist for NBCSports.com, is known in baseball circles for his vast knowledge of amateur and professional baseball facilities. He has published several articles about facilities over the years and is often quoted in publications as an expert and asked to appear on sports radio stations to share his expertise on new baseball facilities. During his more than 20 years of experience as a published writer, he has taken in a game at every MLB ballpark and MLB Spring Training facility, plus hundreds of additional facilities at the amateur and professional level across the U.S. and in more than 30 countries – from amateur tournament sites to colleges to minor league ballparks. Since 2001, he has annually updated online travel guides that help baseball fans plan trips to Spring Training, MLB and minor parks, college summer leagues and internationally. In addition to his work for NBCSports.com, Connor has also been published on ESPN.com, FOXSports.com, MLB.com and LATimes.com, among others.
"The key to building a successful sports facility is really understanding your audience and meeting their needs, so they have an exceptional experience and want to come back again and again," said Connor, who has also seen a game at every NFL, NBA and NHL facility, as well at hundreds of NCAA Division I facilities across baseball, football, basketball and hockey. "Pasco County has the potential to truly distinguish itself as a top destination for amateur sports teams and their families because of the uniqueness of the proposed design, coupled with its convenient location."
The Pasco County baseball complex would be built adjacent to the Shops of Wiregrass, just two miles off of Interstate 75 and within a short drive of the Tampa International Airport. Plans for the facility include 19 artificial turf fields with permanent lighting. Field designs can be adjusted to accommodate all levels of amateur baseball, from Little League dimensions to the colleges. Additionally, the proposal calls for a training development center, plus dormitory accommodations for visiting teams as well as a cafeteria that would feed up to 1,000 players. Furthermore, restaurants and retail stores would also be constructed for players and families to enjoy.
"I think what is particularly telling to me about this proposal is not only the number of fields that would be built but the fact that housing would also be available as well as the restaurants and retail," Connor commented. "There's a certain sense of community and camaraderie when you play on an amateur baseball team, and when that team travels together, having an opportunity to bond and train together on-site I think is huge."
Connor was also particularly emphatic about the importance of the proposals' location, stressing the need for close proximity to a major urban center such as the Tampa-St. Petersburg market as a major appeal to amateur players and their families.
"Visiting ballplayers and their families will want to catch a Spring Training game or a Rays game, as well as well be close enough to the beaches, theme parks and major area attractions, so an ideal location is integral," Connor explained. "Pasco County fits that bill. I look forward to seeing this facility come to fruition. I honestly believe it will not only be an economic boon for the county but will also foster a sense of pride among its citizens, including inspiring its next generation of ballplayers."
About Blue Marble Strategic, LLC:
Blue Marble Strategic, LLC, based in Tampa, Florida, provides business and commercial real estate development and consulting. Blue Marble Strategic is expected to break ground on a destination baseball tournament complex in Pasco County, Florida in the first quarter of 2014. Joe Connor is available for interviews. Members of the news media wishing to speak with Mr. Connor may contact James Talton to set up a telephone interview at james@bluemarblestrategic.com.
Contact Info:
Name: James Talton
Organization: Blue Marble Strategic, LLC
Phone: 813-347-4420
Source URL: https://marketersmedia.com/joe-connor-endorses-proposal-to-build-a-19-field-amateur-baseball-complex-in-pasco-county/27144
For more information, please visit http://www.bluemarblestrategic.com/
Source: MarketersMedia
Release ID: 27144