Jason Coombs Is Pleased To Announce That His New Book "Unhooked – How To Help An Addicted Loved One Recover" Has Been Awarded #1 Best Seller and #1 New Release In Several Amazon Categories.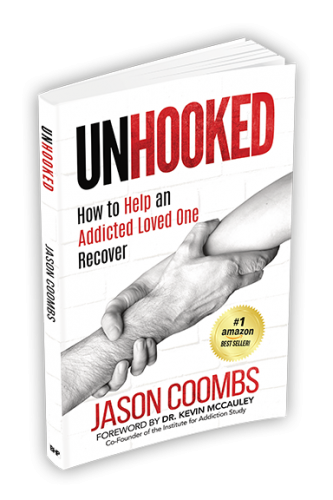 Meridian, ID, United States - June 26, 2019 /MarketersMedia/ — Just a few weeks after the initial release of "Unhooked - How To Help An Addicted Loved One Recover", Jason Coombs' new book hit the #1 Amazon's best seller list and was awarded the #1 new release in several categories.
Jason's book touches the hearts and minds of those who have loved ones suffering from addiction, or who are struggling with it in their own life. Jason provides his own personal story of recovery and a raw, gritty, no-nonsense discussion on how readers can not only survive their loved one's addiction, but ultimately find peace, success, and influence their loved one's long-term recovery.
One reader commented on the book. "Unhooked is so inspiring. Watching a loved one struggle with addiction is painful, but knowing that I can be a part of that addiction in such a negative way is even more painful to realize. I loved reading Jason's mother's perspective and her wisdom in setting healthy boundaries. This is a book I can refer back to when I slip up-to remind myself to 'get off the beach'."
Another reader said "I remember like yesterday the first time I met Jason Coombs. He showed up at our home to serve an addicted family member of ours. We sat in our living room as he shared his wisdom and insights. "This has to be in a book," we all exclaimed! "In time," he responded. I have watched him prepare and I always knew that one day he would finally share his personal and very poignant wisdom and story with the world. I wept as I read Unhooked. This book is a gift to all who are addicted and their family members. I am deeply grateful that he served our family and now, the world."
More information about "Unhooked - How To Help An Addicted Loved One Recover" can be found at
https://unhooked.brickhouserecovery.com/
About Jason Coombs
Jason Coombs is the CEO and Founder of Brick House Recovery. Brick House Recovery is a nationally accredited, faith-based substance abuse treatment program in Boise, Idaho. Jason has effectively guided thousands of addicted individuals and their families out of the chaos and into recovery. He is in long-term recovery himself and so he's been there. Jason is a professional TEDx speaker, consultant, and leadership expert.
Contact Info:
Name: Jason Coombs
Email: Send Email
Organization: Brick House Recovery
Address: 1125 East Pine Ave. Meridian, ID 83642
Phone: 208-650-7359
Website: https://brickhouserecovery.com
Video URL: https://youtu.be/pqeFroc2Bx4
Source URL: https://marketersmedia.com/jason-coombs-new-book-unhooked-how-to-help-an-addicted-loved-one-recover-lands-on-amazons-1-best-seller-list/88889831
Source: MarketersMedia
Release ID: 88889831