Chris Haynes has released a new lifestyle book called It's Not A Diet. It covers the different ways of employing intermittent fasting as a way to lose weight, allowing dieters to eat the foods they enjoy.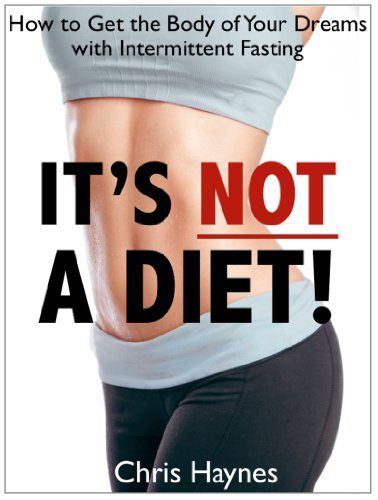 Parkersburg, United States - August 22, 2016 /PressCable/ —
A new lifestyle book has launched called It's Not A Diet, by Chris Haynes. The book focuses on how readers can get the body of their dreams with a technique called intermittent fasting. It covers the different types of intermittent fasting, helping readers to make a decision about whether or not it's the right thing for them to do, and it also expounds on the myths of fasting and compares a number of diets to intermittent fasting, with pros and cons on each.
More information can be found on the It's Not A Diet page listing at: https://amazon.com/Diet-Body-Dreams-Intermittent-Fasting-ebook/dp/B00AZUI4H6/ref=cm_cr_arp_d_product_top?ie=UTF8#nav-subnav.
The Amazon page listing explains that readers can learn about intermittent fasting from the ground up, and uncover why it's not a diet. In addition to this, readers can learn about why they don't have to eat six to eight tiny meals per day to lose weight.
Other dieting myths are also covered, including why dieters bodies won't go into starvation mode if they don't eat anything for long periods, whether it's for three hours, six or even twenty four. In addition to this, the It's Not A Diet book showcases how readers can lose weight eating the foods they like, and avoiding the foods they hate.
The book explains that when people are trying to lose weight, burn fat, or increase muscle, dieting is normally their first point of call. However, the results of dieting can be short lived, leaving the dieter with a feeling of success before they trip up and put the weight they lost back on.
It goes on to say that diets can be hard to stick to, and expensive to maintain, and presents intermittent fasting as an alternative.
Chris Haynes said: "Intermittent fasting has been scientifically studied since the early 1940s with conclusive, positive results. It is a natural, expressive way to train your body to lose weight while increasing concentration and cognitive skills."
Interested parties wanting to find out more about the book can find full details on the Amazon page listing.
Contact Info:
Name: Chris Haynes
Organization: Chris Haynes Books
For more information, please visit https://www.amazon.com/Diet-Body-Dreams-Intermittent-Fasting-ebook/dp/B00AZUI4H6/ref=cm_cr_arp_d_product_top?ie=UTF8#nav-subnav
Source: PressCable
Release ID: 128861