The East Africa Chamber of Commerce is hosting its 11th annual trade conference from October 11th to 13th in Irvine, Texas. The event is an opportunity for entrepreneurs and businesses to network with ambassadors and leaders from East African countries.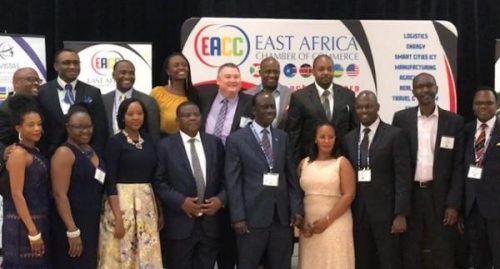 Dallas, United States - August 15, 2018 /PressCable/ —
The East Africa Chamber of Commerce (EACC) has announced its 11th annual trade conference from October 11th to 13th in Irvine, Texas. The conference is being held at the Omni Mandalay at Los Colinas in Irvine.
More information can be found here: https://www.eachamber.org
The conference is an opportunity for American entrepreneurs and businesses to network with important business people, leaders and government representatives in fast growing East African countries such as Kenya, Uganda, South Sudan, Tanzania, Rwanda, Burundi.
Elsa Juko McDowell, Chairwoman of the East Africa Chamber of Commerce says about the conference
"Forging Deeper Relationships via Investment, Trade and Innovation" is the focus for this year's event and examines avenues of enhancing business opportunities both locally and internationally. Open forums and a warm marketplace venue welcome anyone interested in key introductions, education, partnerships, and investment in East Africa.
Among others, organization representatives and leaders in finance, real estate, smart cities, clean energy, entrepreneurship, healthcare, tourism, hotel, transportation and logistics industries will be present during this year's conference.
East African Community (EAC) ministers of governmental as well as nongovernmental organizations will also be there to share insights about their industries. A series of panel presentations will allow both business and government leaders to share information within their fields of expertise as well as answer questions."
She adds:
"As an international chamber, we are very excited about the level of enthusiasm we have received from speakers, sponsors and attendees for this year's conference. There will be a discussion from business leaders, investors, inventors and entrepreneurs, all who have a common interest in stimulating investments, and economic growth.
This is also a prime opportunity for attendees to discuss potential opportunities that their own projects offer. We invite you to come and showcase your projects and investment opportunities at our conference."
The mission of the organization is to economically empower and sustain member communities through entrepreneurship and to advance the social and economic relationship between government and businesses in the United States and East Africa.
Notable guests include the University of Texas at Dallas, Naveen Jindal School of Management and several East African embassies. Additionally, distinguished guest speakers from numerous regions will attend and present. The event will conclude with a grand Dinner Gala on Saturday, October 13th from 6:15 p.m.-12:45 p.m.
Leaders in East African communities have had high praise for the event, saying that it works for "forging deeper relationships with American businesses of all sizes via investment, trade and innovation."
Registration is now open. Interested participants can book tickets and find more information at the link above.
Contact Info:
Name: Ben Kasue
Email: Send Email
Organization: East African Chamber of Commerce
Address: 5950 North Dallas Parkway , Suite 400, Dallas, TX 75248, United States
Phone: +1-855-462-3222
Website: https://www.eachamber.org/about-the-eacc/
Source: PressCable
Release ID: 393201