Irvine, California boiler manufacturers launched Navien Mate, a new premium water heated mattress pad. The new product provides safe and effective mattress heating for better sleep and comfort.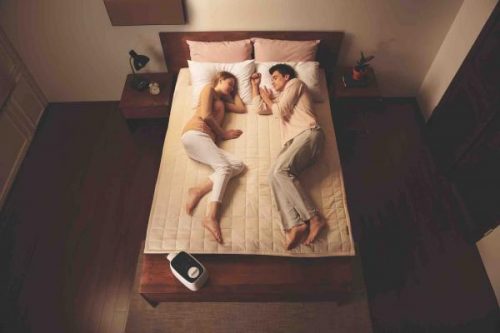 Irvine, United States - December 16, 2020 /NewsNetwork/ —
Irvine, California heating technology and boiler manufacturers KD Navien launched a new premium water heated mattress pad—the Navien Mate. The company provides a wide range of heating and energy solution products for a cleaner and more comfortable living environment.
More information is available at https://www.navienmate.com/products/eqm-350
The new product aims to provide safe and effective mattress heating for better sleep and comfort. Electric blankets provide ample mattress heating but it can be unsafe due to the risk of overheating and fire. Providing a better alternative, Navien Mate water heated mattress topper was launched.
The global boiler maker introduces its new boiler product, Navien Mate premium bed warming mattress topper. The new product is a result of over 40 years of technical experience and principles of better and safer products aimed towards achieving comfortable living.
Through its water heating technology, the product guarantees better sleep through the satisfying warm feeling it affords its user as well as provide relief from stress, inflammation and soreness as well. It uses a low-noise motor to circulate water throughout and to every corner of the mattress, ensuring consistent heating. An innovative eco-friendly invention, the Navien Mate saves up to 50% more energy compared to electric mattress pads via the use of its recirculating warm water technology.
The Navien Mate mattress pads are the thinnest in the market at only 1mm and is easily foldable and portable. It is made of 100% cotton without any fluorescent bleaching and dyeing treatments which makes it safe on all skin types. The King and Queen size pads allow for separate heating and cooling, offering each sleeper their ideal sleep temperature.
Designed with easy and simple installation in mind, comfort can be achieved in three simple steps: 1. Connect the mattress pad to the EQM 350 boiler; 2. Power on the boiler, add water and replace the water cap; 3. Set desired temperature.
Other innovative features include: automatic stop timer, child lock mechanism, water sterilization mode, temperature sensor, overheat protection system, water leak notification, self-check system and more.
More information about Navien Mate is available over the phone at +1-877-689-1541 or by visiting the aforementioned website, their Facebook (https://www.facebook.com/NavienMateUSA) or Instagram (https://www.instagram.com/navienmateusa).
Contact Info:
Name: Stacy Kang
Email: Send Email
Organization: Navien Mate
Address: 20 Goodyear, Irvine, CA 92618, United States
Phone: +1-877-689-1541
Website: https://www.navienmate.com
Source: NewsNetwork
Release ID: 88986673