Window Armor Screen Protector receives over 20 positive reviews from paying customers in the last 7 days alone. Proving it to be one of the most popular Screen Protectors on Amazon.com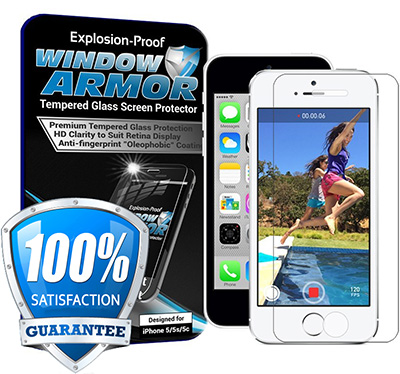 Sarasota, FL,, USA - - May 5, 2014 /MarketersMedia/ — Window Armor – Tempered Glass Screen Protectors for the iPhone 5, 5s & 5c have been receiving a constant stream of positive feedback since its launch earlier this year.
With over 20 positive reviews received in the last week alone, Window Armor is fast becoming one of the post popular options of iPhone screen protection.
But the company has admitted that it needs more customer reviews in order to compete with their more established competitors.
Users are reporting much improved visibility and usability compared to the older style of plastic screen protector.
"This is the best looking screen protector you could hope to find! I am confident that it will look this good for the life of my phone and though I have had it for only a few days, I already know that the old saying,you get what you pay for" said one recently happy customer.
"The quality of this product is superb. Installation was easy and simple. I can't even tell that the screen protector is on my iPhone 5s. Worth the money." said another.
Manufactured with the end user in mind, Window Armor is just one in a range of tempered glass screen protectors specifically designed to protect smart phone screens against scratches and scrapes. With several layers of materials compressed down to just 0.3mm in thickness it protects the screen while giving almost perfect clarity hardly noticeable to the naked eye and giving it a super smooth touch with increased finger glide.
Window Armor also has a hardness rating of 8H to 9H making it one of the hardest screen protectors on the market. Able to withstand heavy scratches and gauges under testing.
An oleophobic coating also helps reduce fingerprints and smudge marks and makes it easier to clean that a naked screen. It is also designed to break into small non- sharp pieces when under too much stress which gives the actual screen below it a better chance of survival.
Currently selling at Amazon.com the product page features over 35 x 5 Star reviews from happy customers.
Window Armor is available with next day shipping and is compatible with the iPhone 5, iPhone 5s and iPhone 5c.
About iStock Accessories:
iStock Accessories is an internet-based creator and vendor of mobile phone and device accessories, specializing in iPhone and iPad screen protectors. The company's mission is to innovate and create excellent products that shine amongst cell phone users where others fall short. To ensure excellent customer service and the consolidation of information, they sell their products exclusively through the Amazon.com marketplace.
Contact Info:
Name: Brock Hamilton
Organization: Window Armor
Address: 4283 EXPRESS LN STE 057-793 SARASOTA, FL 34238-2602 United States
Phone: (415) 992 5430
Source URL: https://marketersmedia.com/iphone-users-cant-get-enough-of-the-window-armor-screen-protector/42934
For more information, please visit http://www.amazon.com/Window-Armor-iPhone-Protector-Anti-Fingerprint/dp/B00HENW0V8/ref=sr_1_12?ie=UTF8&qid=1399260185&sr=8-12&keywords=iphone+5+glass+screen+protector
Source: MarketersMedia
Release ID: 42934