Beach erosion is a global issue plaguing governments and tax payers to the tune of billions of dollars per year. An Ohio based rotational molding company may have a long term beach erosion solution.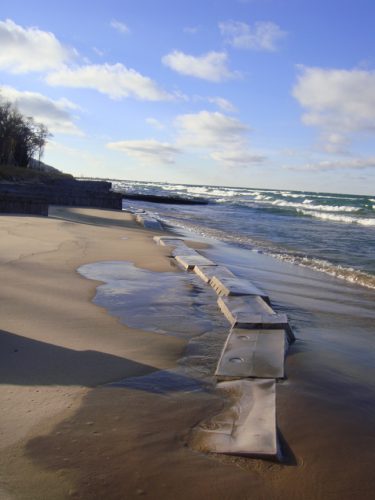 Middletown, OH, United States - May 1, 2019 /MarketersMedia/ — Now that April is over, many parts of the United States are starting to experience spring and summer like temperatures. As the end of the school year draws near, many families are planning summer vacations. One of the most common vacation destinations for American families is the beach. Relaxing in the sun, on the beach is consistently one of the most sought out vacation destinations for summer vacations. However, beach aficionados are not just limited to living and vacationing in the United States as a recent TripAdvisor survey showed that approximately 57% of all Global travelers are heading towards a beach destination.
In some parts of the World, beach attendance is down due to on-going problems plaguing many coastal communities. Beaches all across the globe are suffering from extensive erosion damage to these coastal communities from increased water levels, storm activity and increasing erosion. Many communities are beginning to see that previous efforts to minimize or contain the erosion issues have failed, allowing for continued erosion while the tax payers are left to pay the bill for inadequate technologies that just do not provide any protection or re-nourishment of these beaches. Beach dredging is a common tax payer funded attempt at solving these erosion issues, however many experts proclaim that dredging is not only expensive and temporary; the sand will actually erode away faster than it can be pumped back to the beach. Evidence of numerous failed or temporary dredging projects can be found throughout the eastern coast of the United States. Many communities recognize the economic importance of the beaches, thus dwindling beach attendance is not in the best interest of any of these communities.
Billions of dollars are spent each year across the globe attempting to combat the beach erosion issues. Beach erosion solutions have been offered in many forms such as dredging, groins, jettys, coastal armoring and more. While each of the mentioned options has pros and cons, none of them seem to offer an effective long term solution for any coastal communities. Home owners and citizens from a number of beach and coastal communities have started working feverishly looking for alternatives to beach dredging that could provide a longer term solution and potentially reduce the average costs of beach re-nourishment.
The Sandsaver, a rotationally molded module has proven success in rebuilding beach front property during a period of historically low water levels in Lake Michigan. After the completion of a 2 year test install, the final report conducted by an independent third party reports that the Sandsaver showed "unambiguously positive results".
The Sandsaver system also proved to offer additional benefits not typically found with alternative beach dredging technologies. As stated in the third party report "Beach volume gains did not just occur behind the Sandsaver modules, as some had anticipated. Tangible gain in bottom elevation were witnessed as much as 50' (feet) in front of the Sandsaver system into the lake. This benefit was also visited upon the beach immediately north of the installation. This portion of the beach gained 6.1 cy/foot, when standard expectations were it would lose profile if the Sandsaver system was successful at "grabbing" any sand. This result appears to show that, at the very least, the Sandsaver design does not generate adjacent negative impacts associated with shore-normal and impermeable structures."
These favorable findings of the Sandsaver have many coastal communities considering installation projects across the globe in international waters. Recently a number of cities and government entities from South America, Africa and the Caribbean have expressed a very serious interest in utilizing Sandsaver to combat these plaguing erosion issues.
The Sandsaver is a patented product by The Granger Plastics Company of Middletown, Ohio. Granger is an internationally renowned rotational molding company, providing a number of industry leading solutions for a variety of industries ranging from Aerospace to Defense, Waste Management and nearly every industry in between. Granger worked for a number of years to finally see a Sandsaver installation inside of the United States. Now with the positive results, Granger looks to provide beach erosion solutions to communities all over the world. For more information on the Sandsaver or to read the Sandsaver Lake Michigan report, please visit http://www.sandsaver.com.
Contact Info:
Name: Shawn Cravens
Email: Send Email
Organization: Granger Plastics Company
Address: 1600 MADE Industrial Dr
Phone: (513) 424-1955
Website: http://www.grangerplastics.com
Video URL: https://youtu.be/7VA15Fk1afY
Source URL: https://marketersmedia.com/international-demand-for-beach-erosion-solution-continues-growth/508138
Source: MarketersMedia
Release ID: 508138