A newly minted company from Edmonton Canada announced the launch of its first Amazon product today. If you've ever pulled your hair out in frustration when an electronic device suddenly crashed because it ran out of power, you need to read this.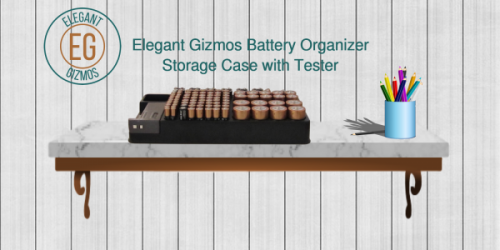 Edmonton, Canada - May 6, 2019 /PressCable/ —
Edmonton, Canada – April 25, 2019 – Terrence Neraasen, owner and CEO of Elegant Gizmos, announced the launch of the company's first product designed for convenient battery storage. The combination organizer and tester facilitates mindful decluttering in the home, garage, workshop or office.
"We are a family-owned business focused on providing innovative and very practical products for the home, office and workshop," said Neraasen. "Making our customers' lives more enjoyable and giving the best possible service is what we strive to do. We just launched our first product on Amazon and are excited to see people are finding it worthy of their attention."
Available exclusively on Amazon, the Elegant Gizmos battery organizer eliminates the clutter of loose batteries, the inconvenience of trying to find the right battery, and the frustration of locating the needed battery only to discover it has no power. It provides a safe way to store batteries that reduces clutter.
Neraasen indicated the innovative design allows it to be mounted on a wall without the batteries being dislodged and falling out. It fits equally well on a shelf, counter or in a drawer. The battery organizer holds up to 110 batteries in the most common sizes. It's capable of containing 24 AAA, 48 AA, 10 C, 8 D, 8 9-volt batteries, and up to 12 coin batteries for a comprehensive range of electronic devices.
The battery organizer storage case (https://www.amazon.com/Elegant-Gizmos-Organizer-Batteries-Declutter/dp/B07JCK6LBB) also comes with a removable tester to measure power levels in stored batteries and those currently in use within devices. It provides cost savings through fewer battery purchases and the convenience of knowing battery power levels so you can be confident they are charged and ready when needed.
Besides appealing to the "neat freak" in me, I also discovered that this storage case addresses the fact storing batteries loosely in draws and containers is dangerous. They have the potential for corrosion that can damage anything with which they come in contact. Loose batteries that touch in the wrong way can also catch fire. Fortunately the battery organizer from Elegant Gizmos prevents batteries from coming in contact with each other and minimizes the likelihood of what could be serious damage.
The battery organizer storage case will also fit well in a variety of environments around the home, providing safe battery storage for a multitude of battery types. It is designed to ensure batteries are conveniently located and easily accessible at any time. The removable tester also ensures the batteries you have are ready to go when needed.
About Elegant Gizmos
Elegant Gizmos is a small Canadian business located in Edmonton, Alberta, Canada. We retail innovative gizmos and gadgets for home, office and outdoors. Our focus is on providing gizmos and gadgets to the consumer that will make their lives more comfortable, entertaining and safe.
Contact Info:
Name: Terrence G Neraasen, Ph. D.
Email: Send Email
Organization: Elegant Gizmos
Address: P.O. Box 41105 Yellowbird, Edmonton, Alberta T6J 6M7 , Canada
Website: https://elegantgizmos.com
Source: PressCable
Release ID: 509055