Latest Report Available at Analytical Research Cognizance, "Industrial Robots Market 2019" provides pin-point analysis for changing competitive dynamics and a forward looking perspective on different factors driving or restraining industry growth.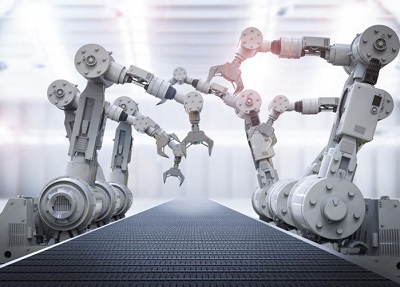 Manhattan, United States - March 12, 2019 /MarketersMEDIA/ — An industrial robot is a robot system used for manufacturing. Industrial robots are automated, programmable and capable of movement on two or more axes.
Request for sample PDF Here: http://www.arcognizance.com/enquiry-sample/268411
Currently, the global industrial robots market is still dominated by players from Japan, Germany, Switzerland, Italy, Austria, United States and Korea, like FANUC, Yaskawa (Motoman), Nachi, Kawasaki Robotics, EPSON Robots, DENSO Robotics, OTC Daihen, Panasonic, Toshiba, Mitsubishi Electric, Yamaha, Star Seiki and JEL Corporation from Japan; KUKA and CLOOS from Germany; ABB and Staubli from Switzerland; Hyundai Robotics and Robostar from Korea; Omron Adept Technologies from United States and Comau from Italy. In future, the Korean players be likely to play more important roles in the next several years, for example, Hyundai Robotics has set a goal of making 500 billion won ($ 444 million) in revenue by 2021 and becoming one of the top five robotics companies in the world.
China has surpassed Japan as the largest market of industrial robots since 2013, and sold 86,415 units in 2016. Europe is the second market, and sold 56414 units in 2016, while 30457 units sold in United States, 36241 units sold in Japan, 42151 units sold in Korea, 7614 sold in Taiwan and 2445 sold in India in 2016.
This report focuses on the Industrial Robot in global market, especially in North America, Europe and Asia-Pacific, South America, Middle East and Africa. This report categorizes the market based on manufacturers, regions, type and application.
Browse The Full Report With TOC@ http://www.arcognizance.com/report/global-industrial-robot-market-2019-by-manufacturers-regions-type-and-application-forecast-to-2024
Besides, the report also covers segment data, including: type segment, industry segment, channel segment etc. cover different segment market size, both volume and value. Also cover different industries clients' information, which is very important for the manufacturers.
Industrial Robots Market Segment by Type, covers
Articulated Robots
Parallel Robots
SCARA Robots
Cylindrical Robots
Cartesian Robots
Industrial Robots Market Segment by Applications, can be divided into
Automotive
Electrical and Electronics
Chemical, Rubber and Plastic
Metal and Machinery
Food, Beverages and Pharmaceuticals
Other
Purchase copy of this Industrial Robots Industry Report @ http://www.arcognizance.com/purchase/268411?license=single
Market Segment by Manufacturers, this report covers
FANUC (Japan)
KUKA (Germany)
ABB (Switzerland)
Yaskawa (Motoman) (Japan)
Nachi (Japan)
Kawasaki Robotics (Japan)
Comau (Italy)
EPSON Robots (Japan)
Staubli (Switzerland)
Omron Adept Technologies (US)
DENSO Robotics (Japan)
OTC Daihen (Japan)
Panasonic (Japan)
Toshiba (Japan)
Mitsubishi Electric (Japan)
Yamaha (Japan)
Universal Robots (Denmark)
Hyundai Robotics (Korea)
Robostar (Korea)
Star Seiki (Japan)
CLOOS (Germany)
IGM (Australia)
JEL Corporation (Japan)
Foxconn (Foxbot) (China)
Siasun (China)
Anhui EFORT Intelligent Equipment (China)
Estun Automation (China)
Guangzhou CNC Equipment (China)
STEP Electric Corporation
Codian Robotics (Netherlands)
Guangdong Topstar Technology (China)
Market Segment by Regions, regional analysis covers
North America (United States, Canada and Mexico)
Europe (Germany, France, UK, Russia and Italy)
Asia-Pacific (China, Japan, Korea, India and Southeast Asia)
South America (Brazil, Argentina, Colombia etc.)
Middle East and Africa (Saudi Arabia, UAE, Egypt, Nigeria and South Africa)
Check available Discount on Report At : http://www.arcognizance.com/discount/268411
The content of the study subjects, includes a total of 15 chapters:
Chapter 1, to describe Industrial Robots product scope, market overview, market opportunities, market driving force and market risks.
Chapter 2, to profile the top manufacturers of Industrial Robots, with price, sales, revenue and global market share of Industrial Robots in 2017 and 2018.
Chapter 3, the Industrial Robots competitive situation, sales, revenue and global market share of top manufacturers are analyzed emphatically by landscape contrast.
Chapter 4, the Industrial Robots breakdown data are shown at the regional level, to show the sales, revenue and growth by regions, from 2014 to 2019.
Chapter 5, 6, 7, 8 and 9, to break the sales data at the country level, with sales, revenue and market share for key countries in the world, from 2014 to 2019.
Chapter 10 and 11, to segment the sales by type and application, with sales market share and growth rate by type, application, from 2014 to 2019.
Chapter 12, Industrial Robots market forecast, by regions, type and application, with sales and revenue, from 2019 to 2024.
Chapter 13, 14 and 15, to describe Industrial Robots sales channel, distributors, customers, research findings and conclusion, appendix and data source.
Part of List of Tables and Figures:
Table Product Specifications of Industrial Robots
Figure Global Sales Market Share of Industrial Robots by Types in 2018
Table Industrial Robots Types for Major Manufacturers
Figure Single-phase Industrial Robots Picture
Figure Three-phase Industrial Robots Picture
Figure Industrial Robots Sales Market Share by Applications in 2018
Figure Residential application Picture
Figure Commercial application Picture
Figure Industrial application Picture
Table Siemens Basic Information, Manufacturing Base and Competitors
Table Siemens Industrial Robots Type and Applications
Table Siemens Industrial Robots Sales, Price, Revenue, Gross Margin and Market Share (2017-2018)
Table Global Industrial Robots Sales Forecast by Type (2019-2024)
Table Global Industrial Robots Market Share Forecast by Type (2019-2024)
Table Global Industrial Robots Sales Forecast by Application (2019-2024)
Table Global Industrial Robots Market Share Forecast by Application (2019-2024)
Table Distributors/Traders/ Dealers List
Other Trending PR :
Robotic Process Automation Market Emerging Trends, Statistics, Size, Global Demand in Automation Industry, New Innovation in Robotics Technology by 2025 @ https://www.reuters.com/brandfeatures/venture-capital/article?id=77031
This report gives overview of "Robotic Process Automation Market" in global region. Also elaborate Company Competition, Market demand, Regional Forecast, Marketing & Price and also new investment feasibility analysis is included in the report.
About Us:
www.arcognizance.com is an initiation in this new era of "analysis @ thought." We are on a mission to replace the conventional research programs and give way to the latest methods and information for the organizations. We have created this hub of analytical research papers where you can get an access to the latest and the best research papers coming out from some reliable and budding research houses. After the advent of "new analytics" based on the data collection facilities of big data, the face of "business research facilities" has changed drastically. With ARC our experts have created a bookshelf where you can check out the research reports that are an outcome of the progression of knowledge in various industry sectors. Alongside you can also check some research papers, market reports, and forecasts that are talking about the "out of the box" developments in the market.
Contact Info:
Name: Matt Wilson
Email: Send Email
Organization: Analytical Research Cognizance
Address: 100 Church street, 8th floor, Manhattan, New york, 10007
Phone: +1 (646) 434-7969
Website: http://www.arcognizance.com/report/global-industrial-robot-market-2019-by-manufacturers-regions-type-and-application-forecast-to-2024
Source URL: https://marketersmedia.com/industrial-robots-market-2019-2024-global-industry-size-share-segmentations-services-business-profitability-emerging-technology-and-trends-demographics-by-manufacturer/491547
Source: MarketersMEDIA
Release ID: 491547