Houston public workers Anointed Caring Homes and God's Way Ministries launched a remix of Beyoncé and Megan Thee Stallion's hit Savage to honor COVID-19 first responders.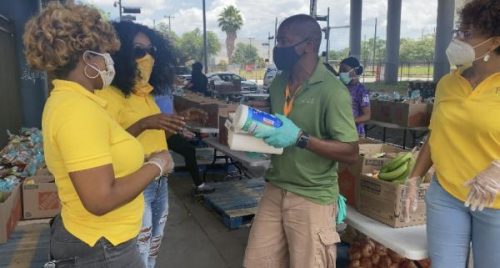 Katy, United States - May 29, 2020 /PressCable/ —
Nicole Wilson of Anointed Caring Homes and Ebony Noir of God's Money God's Way Ministries pay homage to Chris Gleeton of Bread of Life and his dedicated volunteers who stand at the front lines of feeding Houston's homeless. The two have launched a remake of Beyoncé and Megan Thee Stallion's hit Savage, in which they highlight COVID-19 first responders and public workers serving the community.
More details can be found at https://www.instagram.com/tv/CAbhhUigh1D.
The announcement comes amid increased public awareness of the importance of doctors, nurses and other professionals who are actively involved in serving local communities.
"Serving in this time of need is the savage thing to do," said Noir, Founder of 501(c)3 nonprofit organization God's Money God's Way Ministries (GMGW). "I believe that anyone can be one disaster, one paycheck, or even one pandemic away from homelessness"
GMGW (https://www.facebook.com/GMGWMinistries) focuses on changing the socioeconomic fabric of the world through community revitalization. Noir and Wilson share a passion for the homeless community through their partnership of top Home and Community Based Service Provider Anointed Caring Homes (ACH).
"We go in the tents and feed the homeless because we recognize these people," said Wilson, Founder of ACH. "Many of these people are similar to the clients we care for. It's important we are on the front lines of mental health by staying focused on housing, while caring for the intellectual and developmentally disabled population of Texas."
The ladies stand firm on ensuring state funds are properly redistributed to address the homeless crisis and aid in the community recovery from COVID-19. They believe the homeless community are excluded from the census, and make them prime at-risk candidates and transmitters of the virus due to their unsheltered living conditions.
"They come into contact with public essentials at a higher rate than a sheltered Houstonian," said Noir. "Nonetheless, they are still a Houstonian."
Together, the organizations launched their #WellnessWednesday Campaign to raise awareness to the growing population of the homeless community, and decided to contribute to The Bread of Life Inc beginning in April 2020.
Their campaigns were adapted naturally to the new social climate brought about by the pandemic.
The COVID-19 social distancing requirements has affected the way volunteers serve families. Where walk-ups and car pickups were both the norm, now car pick up is only available. Impressively, the volunteers still serve over 300 cars every Wednesday, and GMGW works hand-in-hand to distribute leftover contributions directly to unsheltered homeless families.
"We will never know just how many people truly have this virus, when there are so many people unaccounted for," Noir stated. "It is important for tests to be available to homeless people because they come in contact with all public essentials on a daily basis."
As of May 20th, Mayor of Houston Sylvester Turner confirmed an increased number of COVID-19 cases bringing a total of 119 deaths in Houston. In an effort to increase testing efficiency, he announced an increase in the number of testing sites available to 24 by the end of the month.
In the "Savage Servant" video, viewers will see footage of Bread of Life volunteers, Second Serving, and Anointed Caring Homes team members distributing PPE Kits to families in need. In addition, GMGW shows the reality of the homeless population while distributing kits to those living in tents under the 288 South Freeway bridge.
The campaign also aims to conclude May Mental Health Awareness month by highlighting the importance of community effort for improving the lives of vulnerable groups.
"Mental Health Awareness is not only a passion of mine, but it is also aimed at a very vulnerable population that is typically disregarded," said Wilson. "Anointed Caring Homes is all about families, for those of our individuals who do not have family, we are their family and listening ear when they need someone to talk to. Our approach represents how compassion meets care."
The lyrics of Savage Servant includes: "My head tic tocs when I glance, looking at this homeless problem, and I am not a fan. Big H and that H stands for helping hands, if you want to see the real truth, baby here's your chance."
The video was released on all social media platforms via @ebonyinnovates with the intent to encourage more volunteers to help on Wednesdays.
GMGW and Anointed Caring Homes are shown distributing fresh meals to six volunteers, who Arachnologist Chris Gleeton is proud to serve. The meals were provided by Taste Bar & Kitchen as their way of serving the people who serve the communities.
More details can be found on the link above, as well as at http://anointedcaringhomes.com.
Contact Info:
Name: Head of Communication, Ciara Suesberry
Email: Send Email
Organization: Anointed Caring Homes
Address: 5444 North Fry Road, Katy, TX 77449, United States
Phone: +1-855-773-6635
Website: http://anointedcaringhomes.com/
Source: PressCable
Release ID: 88959566