Glendale and Chandler Heights Hot Tub and Swim Spa Dealer Serving the Greater Phoenix Area Shares 3 Ways to Cultivate Better Relationships. Offers Free Hot Tub and Swim Spa Test Soaks to Local Residents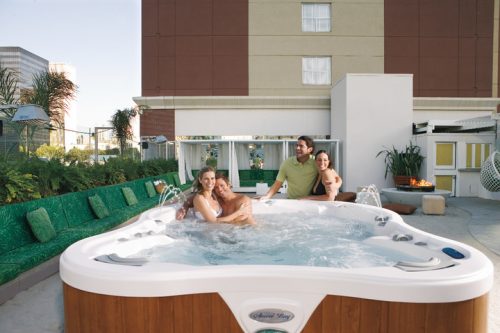 Glendale, United States - July 29, 2019 /MarketersMedia/ — Southwest Spas and Southwest Spas and Pools, selling new and used spas and hot tubs, swim spas and lap pools serving the greater Glendale, Chandler Heights and Phoenix Arizona area publishes 3 Ways to Cultivate Better Relationships.
"Social relationships are a part of what shapes our lives and develops personal awareness," says Melinda Dalacas, manager of Southwest Spas and Pools. In July, during social wellness month, people should take a little time to create a better understanding of the vital importance of good interpersonal relationships and develop them for stronger bonds with friends and loved ones. Here are 3 ways to cultivate better relationships.
Create a Comfortable Space – One of the easiest ways to create a comfortable space for social interactions at home is to add a portable spa to the backyard or patio. Hot tubs quickly bring up the image of a helpful device for feeling better physically. They are great at making people comfortable, relieving pain and lowering stress levels, but hot tubs are also great tools for developing social interactions. Hot tubs are attractive and great for social gatherings because of the soothing, luxurious atmosphere they immediately create.
It is simple to operate a hot tub, and once the desired temperature level is set, it stays at that setting without needing to adjust or change it. That gives users a chance to easily unwind, talk and just have a good time with friends, family and guests. The bubbling water created by the powerful hot tub jets is excellent for health and healing, but in a social gathering, it is just plain fun, and people are drawn to the hot tub.
Get Out of the House – Just get out and experience the world and the people in it. Home should be a place of relaxation and sanctuary, but not to the point of isolation. People who are isolated quickly become depressed and may not even realize it until it is so advanced it is an illness. Getting out and mingling with neighbors, talking to each other and finding shared interests with the people around helps build feelings of mental health and wellbeing. It's easy, just go out and say hello to the people around you.
To increase the benefits of getting out of the house, people can join a health club, get involved in a community project or activity, or find a group involved in a hobby or interest. Getting involved outside of the house builds connection with others who share the same values, ideas or interests. It also provides good opportunities to communicate and makes it easier to talk with new people because there is already some common interest.
Be Giving – One of the best ways for people to feel better about themselves is to give to others. Giving doesn't require extravagance or even money; you can spend time with others who are less fortunate, help someone who needs a hand or even assist a neighbor with yard work or moving. Other ways to achieve a sense of accomplishment and wellbeing might include volunteering at local shelters, nursing homes or hospitals, and it also helps people in need.
To encourage local residents to check out the benefits of using a swim spa or hot tub to help improve their overall health and well-being, Southwest Spas is providing free test soaks all month. They do recommend, however, that people wanting to schedule their free 30-minute soak call us ahead of time to reserve their spot.
To learn more about the benefits of owning a swim spa or hot tub Consumers are encouraged to visit the company website at https://www.SouthwestSpas.com or https://hottubsgilbert.com to learn more about hot tubs and about the $500 Wellness package (Massage Certificate/Health and Beauty Items) that is available with the purchase of a hot tub or swim spa.
About Southwest Spas
In 1983, Southwest Spas was founded as a family owned and operated business; originally established as a pool, spa and patio supply company. The desire to help people in need of therapy, stress relief and family time motivated them to focus their efforts on spas. They pride themselves in providing the highest quality spa line in the industry, along with exceptional customer service.
Southwest Spas has achieved elite status with Dimension 1 Spas, along with multiple "Dealer of the Year" awards for sales and service. Their business is still family owned and operated and sales are based mostly on referrals. They have changed thousands of people's lives by providing state of the art products that relieve pain, stress and bring friends and family together. They'd love for residents to be a part of their growing family.
To get more information about the benefits of owning a hot tub or swim spa, pick up a copy of their free guide, First Time Spa Buyers Most Frequently Asked Questions. Just call 480-969-6224 or 480-999-3303, or visit https://SouthwestSpas.com or https://HotTubsGilbert.com.
Southwest Spas
1110 S. Country Club Drive
Mesa, AZ 85210
https://maps.google.com/?cid=13517306964231651073
https://www.facebook.com/SouthwestSpasMesa/
Southwest Spas and Pools
2571 S. Val Vista Drive
#13 Suite 103
Gilbert, AZ 85295
https://maps.google.com/?cid=15554784856151375482
https://www.facebook.com/Southwest-Spas-Pools-1727613627486992/
Contact Info:
Name: Melinda Dalacas
Email: Send Email
Organization: Southwest Spas
Phone: 480-969-6224
Website: https://SouthwestSpas.com
Video URL: https://www.youtube.com/watch?v=dpgGV5osUBI&feature=youtu.be
Source URL: https://marketersmedia.com/hot-tubs-glendale-swim-spas-chandler-heights-az-dealer-supports-social-wellness-month/88901625
Source: MarketersMedia
Release ID: 88901625