Refinishing a tub is typically much more cost-effective and less time consuming than a total remodel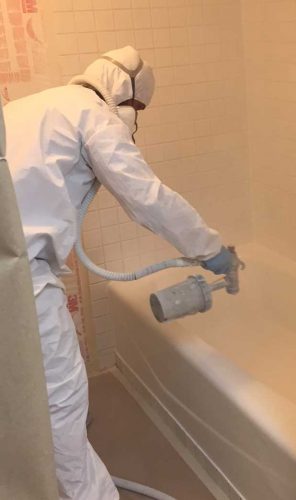 Washington DC, United States - October 19, 2019 /MarketersMedia/ — When homeowners are stuck looking at a scratched, stained, or outdated tub, they often turn to replacing or remodeling as a first option. But this typical option often proves to be costly in the areas of both time and money. A little-known option, however, can save homeowners big bucks while helping them get the updated bathtub they're looking for.
Instead of replacing their bathtub, homeowners can opt to have their tub refinished. This process gives the tub a new makeover without requiring a complete remodel. For homeowners, this is a breath of fresh air because it eliminates the daunting tasks of demo and installation. The messes are usually much smaller with refinishing, and the bottom line of the project is typically far less than one would pay to replace a tub.
The national average for refinishing a tub is approximately $500, which is a pale comparison to the cost of purchasing and installing a brand-new tub. While a new tub can be purchased at less than the national average of refinishing, the costs of other needed materials and labor quickly drive up the overall project costs to a much higher level than expected.
With refinishing, customers can enjoy a much more relaxing process that won't entail demo or cleanup. Instead, a team comes in, does the work, cleans up, and that's it. And the results can be simply amazing.
Mike Calamus is the founder of Calamus Enterprises, and he's a bathtub refinishing expert. "With refinishing, we find that our customers get the best of both worlds. They get the look and feel of a new tub at a fraction of the cost. So, for homeowners who want a fresh looking tub but don't want to pay the full cost of a new tub, or deal with the hassle of a remodel situation, refinishing is an exceptional and welcoming alternative," said Calamus.
Companies such as Amazing Bathtub Refinishing, AK Bathtub Refinishing, Top Bathtub & Tile Reglazing, and CE Bathtub Refinishing Florida offer tub refinishing services to customers across the country, making this affordable alternative one that people from coast to coast can take full advantage of.
With bathtub refinishing and reglazing, homeowners can enjoy an affordable way to increase the aesthetic appeal of their tubs. Although there are other options available, alternatives such as liners tend to be more expensive and less effective over the long term as opposed to refinishing or reglazing.
Contact Info:
Name: Alex Husak
Email: Send Email
Organization: CE Bathtub Refinishing
Phone: 786-490-7574
Website: https://www.calamus-enterprises.com/ce-bathtub-refinishing/
Video URL: https://www.youtube.com/watch?v=1-AWZ84-thY
Source URL: https://marketersmedia.com/homeowners-will-save-big-with-ce-bathtub-refinishing-service/88929152
Source: MarketersMedia
Release ID: 88929152