Michael Simons will prepare elegant and simple holiday food using nutrient-dense microgreens during a live demonstration at 11 a.m. on Saturday, Dec. 21, 2019, at the Farmers Market in Aiken, SC.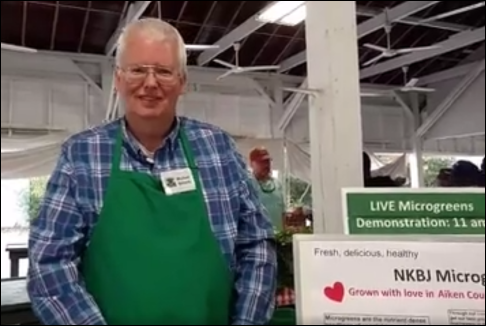 Aiken, United States - December 18, 2019 /NewsNetwork/ —
Michael Simons of NKBJ Microgreens will conduct a Live Microgreens Demonstration at 11 a.m. on Saturday, December 21, 2019, at the Aiken County Farmers Market, during which he will prepare elegant and simple holiday food using microgreens he has grown. While supplies last, consumers and chefs in Aiken, Graniteville, New Ellenton and surrounding areas may enjoy free samples of his 5-ingredient, open-face party sandwiches.
Just in time for Christmas and other holiday parties, Mr. Simons will be demonstrating how to combine and use two specific "dainty" varieties of microgreens that provide a touch of elegance to the food he will be preparing. The sandwiches he will make are suitable for parties at homes, businesses, and for special occasions.
His 3-fold goal during his live microgreens demonstration is to show that elegant and yet simple holiday and party foods can:
1. Be good for one's health;
2. Be easy to make; and
3. Be quick to prepare.
Mr. Simons stated, "Microgreens are the nutrient-dense seedlings of vegetables and herbs. They can be used in at least 20 different ways in various foods and beverages. Consumers can get up to 40 times more nutrients in freshly harvested microgreens than in their mature counterparts."
Michael Simons has found that his commitment to growing microgreens with strictly non-GMO seed — and organic seed when he can get it — is resonating with chefs at area restaurants. They also appreciate his dedication to using no fertilizers, no fungicides, no herbicides, and no pesticides in his microgreens operation.
In the NKBJ Microgreens Presents email newsletter that he and his wife Vicki write and send to subscribers, a featured photo or video of the week shows a food or beverage that uses the microgreens they grow.
Additionally, the "Chef Inspired" section of their email newsletter was created to
– showcase chefs and their creations using the couple's microgreens at area restaurants; and
– provide a little free publicity for the chefs and their dining establishments.
This is the second in a series of live microgreens demonstrations that Mr. Simons plans to conduct on a monthly basis at the Aiken County Farmers Market, which is located at 115 Williamsburg St NE, Aiken, SC 29801.
Contact Info:
Name: Michael Simons
Email: Send Email
Organization: NKBJ Microgreens dba NKBJ InfoNet, LLC
Address: 262 East Gate Drive, Aiken, South Carolina 29803, United States
Phone: +1-803-295-8784
Website: http://nkbjmicrogreens.com/
Source: NewsNetwork
Release ID: 88940074