After extensive measures to ensure guest satisfaction and prevent the spread of Covid-19 the Fitgers Hotel is re-opening to the public this week. Management and staff have completed an extensive cleaning and Covid-19 management plan. The hotel and historic brewery complex re-opened this week.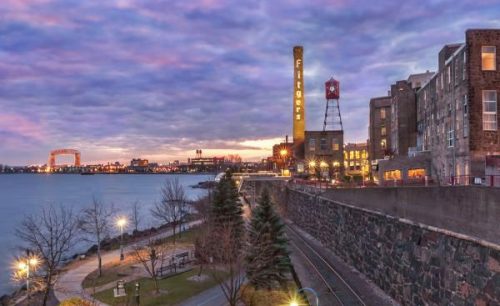 Duluth, United States - May 22, 2020 /PressCable/ —
The Historic Fitgers Brewery Complex is Re-Opening to the public.
A note from the desk of managing partner Scott Vesterstein:
"The last month has been a difficult time for all of us. Fitgers has been closed to protect our coworkers and do their part in reducing the transmission of Covid-19.
Now, Fitgers is ready to reopen safely and welcome back the public. The inn and shop owners—a collection of truly local, unique, small businesses—are ready to deliver the exceptional products which each store specializes in providing. Each shop, restaurant and the Fitgers Inn has adjusted the way they do business to the new reality of the Covid 19 world."
The Fitgers Hotel and Fitgers Complex are proud to announce just a few of the things that it will be doing to provide shoppers and guests with a safe environment:
What Fitgers is doing to prevent the spread of Covid-19 at the Hotel?
1. Enhanced Cleaning using chemicals proven to be effective on COVID 19.
2. Implementing Touchless check in and check out process that will not require signatures or handling guests' credit cards or ID's.
3. Spacing rooms to try to give guests distance between occupied rooms.
4. Discontinue the continental breakfast buffet to avoid the danger of communal food.
5. The Fitgers Inn is also giving each reservation $30 (3x $10) in gift certificates valid in any of the mall shops and restaurants as an incentive for stays through June 11th.
What is Fitgers doing to prevent the spread of Covid-19 at the Fitgers Complex in general?
1. Implementing a more frequent and more rigorous cleaning schedule throughout the complex. Sanitation of public spaces, thorough cleaning of guest rooms and cleaning of the shops themselves will be priority number one. Fitgers is using chemicals proven to be effective on COVID 19.
2. Employees' health will be monitored and any member of the Fitgers Family that is ill or has been in contact with someone who is ill will stay home. Likewise, Fitgers asks that if you have been ill or in contact with someone who has been ill, please help us protect the staff and other guests by waiting to shop or visit the mall until you have been cleared by medical professionals.
3. All of the stores will limit the number of guests allowed inside so that social distancing will always be possible. The numbers will vary by store size and layout, but you will be able to shop safely throughout the Fitgers Mall.
4. Plexiglass guards have been installed at the hotel front desk and throughout individual shops. When combined with masks being worn by our staff and shopkeepers, and gloves when exchanging items with our guests, Fitgers will limit as much as possible the spread of any viruses.
5. Multiple hand sanitizer stations have been installed throughout the Mall and Inn. Please use them frequently to keep you hands clean when browsing our shops.
6. Many of the shops have created or expanded their online presence. All of them offer convenient curbside pickup and are doing whatever it takes to help stay safe while shopping with us. It's one of the great things about doing business with your neighbors.
7. Each of the shops is implementing low-touch check out, limiting the number of guests in their stores, increased cleaning/disinfecting, and using masks and gloves to help reduce the risk.
To book online visit our website at https://fitgers.com
Media Contact:
John Klemme
218-722-8826
SOURCE: The Fitgers Hotel
Related Links
Contact Info:
Name: John Klemme
Email: Send Email
Organization: Fitgers
Address: 600 East Superior Street, Duluth, MN 55802, United States
Phone: +1-218-722-8826
Website: https://fitgers.com
Source: PressCable
Release ID: 88955180