DailyHealthPost.com has today released a free exercise infographic on unlocking tight hip flexors titled "5 Hip Flexor Stretches". It is available at https://dailyhealthpost.com/hip-flexor-stretches/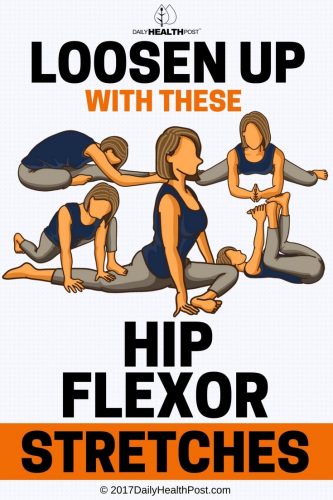 VANCOUVER, United States - May 1, 2018 /MarketersMedia/ — DailyHealthPost.com has today has made available and at no cost to the reader; a free infographic titled: "5 Step-by-Step Illustrated Hip Flexor Stretches".
The infographic has two key aims, written mostly to be relevant to professionals who work long hours sitting down, though it will also prove very useful and informative to many others, and anyone dealing with lower back pain and tight hamstrings. (https://dailyhealthpost.com/hip-flexor-stretches/)
The infographic's primary aim is to show individuals how to stretch and unlock tight hips. Henry Berson, author of the infographic, explains that this will give valuable information to the reader who will ultimately benefit by loosening stiffness and pain in the lower back and hamstrings thereby improving overall well-being and productivity.
Henry Berson also states that the infographic was designed with Office Professionals largely in mind, because "People who work in offices usually sit for long hours so this serves as a handy step by step guide."
It is worth nothing that after five years, DailyHealthPost.com is in a unique position to produce this infographic and distribute it to all interested parties, as it has gained a particular insight into audiences who are passionate about natural health and wellness.
This comes in no small part from being dedicated to establishing itself as a leading natural health website that seeks to inform, inspire and empower readers to take action and make positive changes in their lives by connecting them to a wealth of resources, ideas, and community online. This comes about by listening to DailyHealthPost.com readers and creating content that answers their needs..
Its unique position in digital health publishing gives it the authority to produce a reliable illustrated guide on how to stretch and relieve hip stiffness and lower back muscle pain. All DailyHealthPost's videos and infographics are created by in house designers and creators who have been part of the team since the site's inception five years ago.
When asked about why they released the infographic at this time, Henry Berson, lead writer at DailyHealthPost.com said: "You may not be able to see your hip flexors, but you sure can feel them if they're not working properly. A good physical therapist or personal trainer will show you how to unlock your hip flexors, but not everyone has the time or need for a professional. These should help close that gap.."
Interested parties can find a detailed article and infographic ready to download, for free, at https://dailyhealthpost.com/hip-flexor-stretches/
To read and sign up for daily trending health articles, visit www.dailyhealthpost.com
Contact Info:
Name: Henry Berson
Email: Send Email
Organization: DailyHealthPost.com
Address: 1275 West 6th Avenue, Vancouver, British Columbia V6H 1A6, Canada
Website: https://dailyhealthpost.com/
Source URL: https://marketersmedia.com/hip-flexor-stretches-for-tight-hips-infographic-released-by-dailyhealthpost-com/338834
Source: MarketersMedia
Release ID: 338834