Profound experiences occur when combining comedy and group therapy. Members learn potent tools and develop active listening and powerful sharing skills to build confidence and overcome anxieties.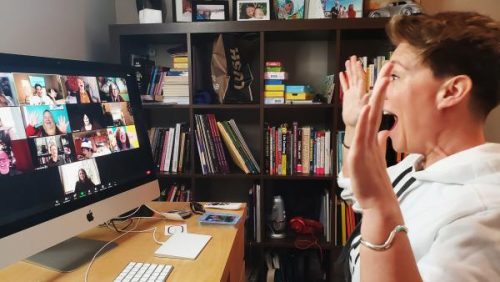 White Rock, Canada - December 21, 2020 /PressCable/ —
Hilarapy announces Free Laughing Yoga Parties through February 2021. With the pandemic wearing on and anxiety, depression, and fear rising across all ages around the world, this initiative is a free gift of love harnessing the power of laughter.
On the heels of Hilarapy's successful launch of the Online Comedy Therapy platform offering a comprehensive suite of comedy therapy sessions and workshops, the company presents Laughing Yoga Parties to lift spirits with laughter and joy as the world moves towards the end of the pandemic.
Singles, couples, families, or groups, register in the Free Laughing Yoga Parties on Zoom
Dates are Sundays on Jan. 10th, Jan. 24th, Feb. 7th, and Feb 21st all at 10:00 AM PT / 1:00 PM ET / 6:00 PM GMT.
These are 45-minute Zoom sessions which include a Certified Laughing Yoga Instructor at no cost. (Designed for all ages and abilities; no mats, experience, or fancy workout gear required, just bring a desire to laugh). *Must have internet connection, screen, and sound
Clinical findings consistently support positive physical, physiological, and psychological effects of Laughing Yoga. Widely known as an effective way to release the body's "feel good" chemicals boosting mood, Laughing Yoga benefits also include aiding the immune system, reducing stress and blood pressure, elevating pain tolerance, diminishing depression, and creating happiness. Neurologists confirm Laughing Yoga as a potent combination that can markedly improve physical and psychological health.
What is Hilarapy? "It's a made-up word," explains Founder and Visionary, Lizzie Allan, "A mashup of hilarious therapy."
"Everyone struggles with the human condition," clarifies Allan, a Professional Stand-Up Comedian and Registered Therapeutic Counsellor. "Being alive is traumatic and we are all the same inside." Lizzie is an admirer and supporter of community building. "When we do anything together, the outcomes are always so much better," she states. "Laughing with other people is the best form of connection. I've observed time and time again the power of comedy to create connection and to tackle the hard to talk about subjects with levity and light, so I use comedy to help articulate those difficult experiences from the shadows."
As a 'comedy as therapy' organization, Hilarapy's Online Comedy Therapy program wrapped in a safe and supportive environment that connects community members in a highly personalized way. The core of the program consists of comedy writing and performing techniques combined with therapeutic techniques all within a safe community. Participants share their stories which delivers a powerful, effective, and fun pathway to a happy and successful life. Hilarapy's vision is a world in which every person can own their story without the need of approval or sympathy.
Profound life-changing experiences occur when combining comedy and group therapy. Members acquire and learn potent new tools and develop active listening and powerful sharing skills to help build confidence and overcome life's anxieties.
For additional information on Hilarapy, Hilarapy Studios, and the new Hilarapy – Healing with Humour Online Program, go to Hilarapy.com
Contact Info:
Name: Elaine Cheung
Email: Send Email
Organization: Hilarapy
Address: 991 Stayte Rd, White Rock, British Columbia V4B 4Y7, Canada
Phone: +1-604-614-3142
Website: https://hilarapy.com
Source: PressCable
Release ID: 88990847