Renowned artists Marcus Manson and Tony Midi are donating artwork to raising funds for Indonesian people in poverty.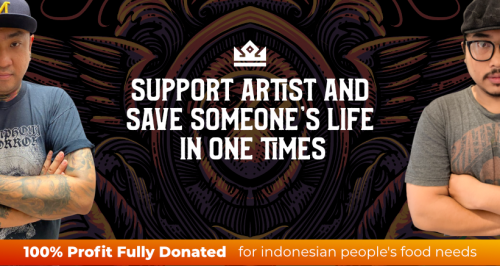 May 18, 2020 — Jakarta, Indonesia – Indonesia is one of the hardest hit countries in Asia with the COVID-19 pandemic. With the first cases having been reported in early March, cases are now on a massive upswing, and the virus has spread to every province. Most concerning is the fact that the real number of infections is far higher than the reported numbers show, not surprisingly since the country has the lowest testing rate in the world.
The pandemic has had a severe impact on the country's tourism and manufacturing sectors, leaving tens of thousands of people hungry and homeless. Few citizens are still able to afford rent or food.
Celebrated Indonesian artists Marcus Manson and Tony Midi, whose clients include Universal Studios, Papa Roach, Avenged Sevenfold, and others, want to help. As such, they are on a mission to save lives by donating their artwork in order to raise funds.
The program will be launched on May 19th, with the goal of accumulating $26,000 in donations. A choice of three different packages is available to donors, each of which will result in the saving of two, three or four lives for ten days. Donors will receive a magnificent piece of artwork, depending on which package they choose.
Early Bird offers will be available from May 19th until May 25th, and normal prices will remain for May 26th to May 31st.
Each donation will result in a food package that can save someone's life for 10 days. The package includes
• 5 kg rice
• 1 kg egg
• 2 cans sardines
• 1 box of tea
• 500 gr sugar
• 4 packs of noodles
• 1 liter oil
"For an incredibly low price of $29, $59 or $99, you will literally be saving lives," says organizer Ibnu Rasikh. "And you will be the proud owner of a truly stunning piece of art. Please help – we can't do this without you."
To find out more, please visit artisticgiven.com or Instagram at
https://www.instagram.com/artisticgiven/.
Contact Info:
Name: Ibnu Rasikh
Email: Send Email
Organization: artisticgiven.com
Phone: (+62)87788467445
Website: https://artisticgiven.com/
Video URL: https://youtu.be/hsD3z8HbCE8
Release ID: 88957935