A hemp CBD-based hydrating face mask has been launched as part of a new skincare range from Hempworx. The botanical face mask is designed to reduce fine lines, wrinkles, blemishes, and sun damage.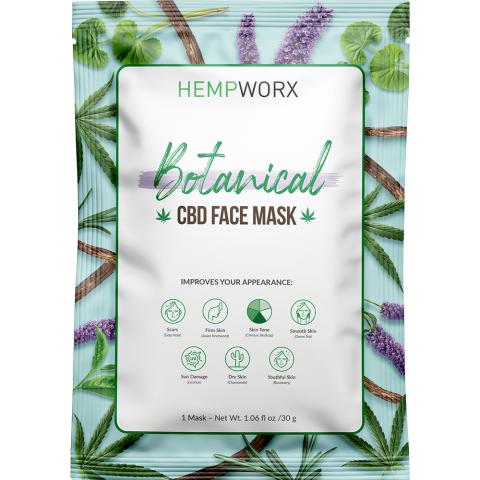 Alajuela, Costa Rica - July 26, 2020 /PressCable/ —
A new hemp CBD-based hydrating face mask has been launched as part of a new skincare range by a leading supplier of high-quality CBD products. Hempworx prides itself on supplying customers with products for everyday use that offer practical solutions.
Find out more at https://www.hempworx.com/iconhemp
The newly launched botanical hydrating face mask, which is part of the new skincare range, is available with CBD or CBD-free. It is designed to improve the appearance of scars, firm skin, smooth skin, reduce sun damage, hydrate dry skin, and promote a radiant youthful look.
It features a blend of beautifying plant extracts and premium CBD-oil to reduce the appearance of fine lines, wrinkles, and blemishes. Pure plant extracts of green tea, chamomile, licorice root, rosemary, and gotu kola are included within the blend.
Luxurious and hydrating, the mask will pamper skin and provide people with a superior spa experience from the comfort of their home. For best results, people are advised to wash their face and apply toner before use. Individuals should then unfold the mask completely and remove the protective mesh from one side.
The gel-side should cover the entire face and be gently patted, so it contours to the face perfectly. Once it is securely in place on the face, people can peel off the second layer of the mesh and adjust it as needed. People can then sit back and relax while enjoying the soothing scent of plant extracts.
After 20-30 minutes the mask can be removed, and any remaining gel can be massaged into the face and neck. It is recommended to be used 3-5 times per week for a smooth, glowing complexion that is blemish free.
A company spokesperson said: "Get flawless glowing skin with this hydrating botanical facemask. It is made with nature's herbal extracts and broad-spectrum CBD oil so people can enjoy a blissful moment of home self-care."
"Hempworx has a range of CBD-based products to suit all needs, from full spectrum, to THC free oil. In products ranging from coffee, to pet treats and oils, and CBD-based personal care products," they added.
To find out more, interested parties are invited to visit the website provided.
Find out more at https://www.hempworx.com/iconhemp
Contact Info:
Name: steven wlson
Email: Send Email
Organization: CR Media World
Address: Llanos del molino, Alajuela, Provincia de Alajuela 20101, Costa Rica
Phone: +44-7860-585899
Website: https://www.linkedin.com/in/steve-wilson-ba5aa21b1/
Source: PressCable
Release ID: 88970060