Harvard-trained attorney and Columbia MBA Amy Powers offers a potential solution to anyone feeling burned out, stressed out, or left out by the current economy.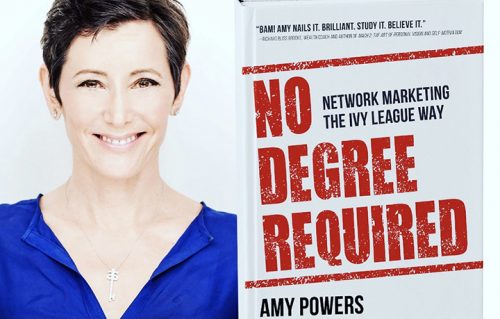 Los Angeles, CA, United States - April 26, 2021 /MarketersMedia/ — Former Real Estate Finance attorney at a major New York firm, Amy Powers re-created herself, first as a multi-platinum selling, Emmy-nominated lyricist, then as a top 1% earner at a major Vegan B Corp Certified Network Marketing company. She wrote "No Degree Required: Network Marketing The Ivy League Way" to help others see the value in this often misunderstood business model and to provide a blueprint for those already involved in this rapidly growing space — one that helps maximize professionalism, personal satisfaction, and profit potential.
In this quick and engaging read, Powers discusses Network Marketing as an under-explored option for anyone feeling frustrated by the current economy. The book has struck a chord with multiple generations of readers, from cash-crunched college students to time-crunched professionals, busy parents, empty nesters, and seniors who can't afford to retire.
No Degree Required outlines ten challenges of modern work life, explains Network Marketing as a possible solution and takes on the doubters with common sense and candor. "I'm a native New Yorker, so I'm going to tell it like it is," Powers said. "Given my educational background, I was a professional skeptic — but the more I researched the business model, the more impressed I became."
It also weaves in Powers' own journey. "When I was considering joining this industry, flexibility was critical. I had young kids, was exhausted from a yet-to-be-diagnosed autoimmune disease, and working freelance in an industry - music - that was fundamentally unstable. I needed a way to create a little extra money without taking a 9-5 job or going into debt for yet another degree with no guarantees," she says. But a typical side hustle didn't interest her.
According to Bankrate.com, nearly 40% of Americans have a side hustle. Yet, many of these only pay hourly and offer no financial growth opportunity. Others involve starting your own business, which can be, as Powers says, "pricey and dicey."
She calls Network Marketing "the smarter side hustle." It allows an entrepreneurially-minded individual "a low-risk way to essentially own their own business, by being an 'intrapreneur' within an already existing company that provides all the tools and training they need," she explains. "And because you earn money when not only you but others you train become successful, mentorship is baked into the motivational pie."
"Plus, it's a largely online business model that doesn't require previous experience. It can be done on a small scale or grown to something much bigger. And because it's less than $100, on average, to start a Network Marketing business, it's financially accessible for many, if not most."
Powers is particularly passionate about the equal-opportunity nature of Network Marketing. "Because you don't need to be "hired" you can't be "fired"-- and there's no limit on what you can create," she says. "Some industry high achievers never graduated from high school, others are MDs, JD's, Ph.D.'s, MBA's, and CPA's. Finally, in a fundamentally inequitable world, here's something that levels the playing field."
Known for her passion for helping people rebalance their health, work-life balance, and overall happiness, Powers draws on her own experience to help others see how Network Marketing might change their lives in all the ways it has changed hers in over a decade in the industry. "When you find your fit - in terms of the right company, product, service or mission - this profession offers community, camaraderie, meaning, as well as of course a monetary upside potential."
The book myth-busts concepts like "it's a pyramid scheme" or "it's a get rich quick scheme" and educates away objections like "I don't have enough time" and "I'm not a salesperson." It outlines a blueprint for success, gives dozens of pro tips, and features interviews from successful Network Marketers offering goods and services as diverse as clothing, wine, skincare, beauty products, nutrition, personal protection gear, and financial services.
"No Degree Required" has earned the praise of business, personal development, and money experts from world-renowned Wealth Coach Richard Bliss Brooke to Wall Street Journal bestselling author and Dream University CEO Marcia Wieder, The Wealthy Spirit author Chellie Campbell, and T. Harv Eker, #1 New York Times bestselling author of "Secrets of the Millionaire Mind." To get your copy of the book go to www.amypowers.com/book.
Powers is currently offering a complimentary quiz at www.ReadyForChangeQuiz.com to help interested parties determine if their traits and desires might be a good match for the Network Marketing industry. Those that qualify will receive a free personal consultation.
She invites people to join her at The Smarter Side Hustle Club on Clubhouse and connect on social media at www.instagram.com/amypowersla and www.facebook.com/amypowersla.
Contact Info:
Name: Amy Powers
Email: Send Email
Organization: Powers To Be
Address: 13400 Riverside Drive, Suite 100, Sherman Oaks, California 91423
Phone: +1-323-646-4135
Website: https://www.amypowers.com/
Video URL: https://youtu.be/kTMDksuqdoE
Source URL: https://marketersmedia.com/harvard-lawyers-new-book-no-degree-required-hits-amazon-bestseller-list/89007204
Source: MarketersMedia
Release ID: 89007204