Haley Steiner Releases her Video Testimonial Review of Autonique Used Car Auto Dealership of Oceanside California. The video is viewable at https://youtu.be/Ie-2jGCyOVM. For more information on Autonique go to https://www.Autonique.net/.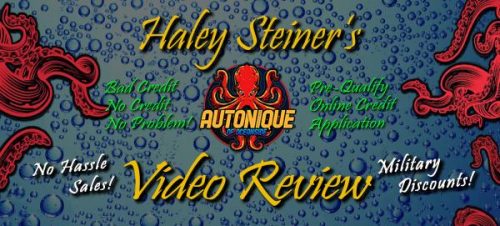 Oceanside, United States - July 7, 2020 /PressCable/ —
Haley Steiner has just released a video review of Autonique Used Car Auto Dealership of Oceanside for people interested in Pre-Owned Used Cars around the Oceanside, California area.
Haley's review is about the "No Hassle Used Car Sales Experience" that Autonique takes pride in addition to the special discount offered to people who provide essential service to our San Diego County Community like the Marines and other Armed Service Members on Camp Pendleton, the Police Officers, Fire Department Members, and Medical Service Providers.
Haley had this to say about her used car buying experience, "I purchased my 2013 Audi Q5 from Autonique of Oceanside and Katy was the best salesperson ever. She did not pressure me to do anything. She was very kind, very honest… I told her I wasn't comfortable with certain prices and she didn't push me to do that and the customer service was phenomenal. I would recommend her to anybody, so go check them out."
Autonique Used Car Auto Dealership of Oceanside is a Woman Veteran Owned and Operated Oceanside Small Business located at 920 S Coast Hwy Suite A, Oceanside, CA 92054. The Pre-Owned Auto Dealership is found under the Painted American Flag on the roof easily viewable when driving south on the South Coast Highway.
This positive 5-Star Video Review Recommendation of Autonique's Used Car Dealership and "No Hassle" Buying Experience Video Review can be viewed at this link: https://youtu.be/Ie-2jGCyOVM.
Katy Eatmon, Owner of the Autonique Oceanside Dealership had this to say when asked what makes Autonique stand out from her competition, "I served in the U.S. Marine Corps and Service Men and Women mean the world to me, yet so do the others in our Oceanside Community like Haley who just gave us a great Customer Video Review, and the other essential service providers like the local Police Offers, Firefighters, Educators, and all the Emergency and Medical Staff who all work together to keep us protected in these troubled times. Autonique is proud of the big Painted American Flag on our Dealership's Roof. It is quit a landmark and being a Marine, you know where we stand for this country. If you or someone you know is looking for a quality vehicle and a Used Car Dealership that you can trust, come on down to Autonique and enjoy our 'No Hassle Sales Experience'. When you have questions, we are here with answers and to help you with financing, but don't hover or pressure, because we know you know what you are looking for… We are just here to help you drive it away!"
Autonique offers an Online Pre-Qualify Credit Application on their website that once completed will automatically show you the cars in the inventory that your Financing would be approved for. This adds to the unique sales experience and customer services offered by this popular Oceanside Used Auto Dealership.
Katy, Owner of Autonique, also mentioned that they also offer different On-Site Same-Day Financing Options welcoming everyone to come by stating, "We tell everyone not to worry about the financing. If you have a job and provable income, you can get a car, and all you need to do is bring in your Paycheck Stubs, recent Bank Statements, and Proof of Residence. If we have this paperwork, I will personally find a way to get you a car. I've been doing this for over fifteen years and take care of my customers. If you have questions, call us, and we will answer all your questions. So, don't worry, stop by, and drive away as the newest Smiling Autonique Used Car Buyer!"
More information about Autonique's Used Car Auto Dealership can be found at https://www.Autonique.net/.
Contact Info:
Name: Katy Eatmon
Email: Send Email
Organization: Autonique
Address: 920 S Coast Hwy Suite A, Oceanside, California 92054, United States
Phone: +1-760-433-6666
Website: https://www.Autonique.net/
Source: PressCable
Release ID: 88967482