International Banker recently held its annual Banking Awards to acknowledge the top banking institutions and individuals in the Middle East and Africa. Guardian Bank received the award for Best Commercial Bank of the Year Kenya 2019.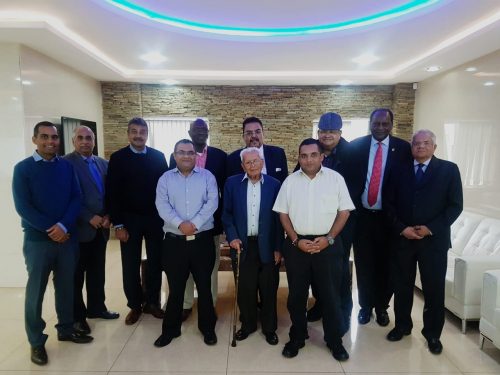 London, UK - June 11, 2019 /MarketersMedia/ — International Banker offers a global view of banking and finance. Each year through the Banking Awards, it recognises the leading banking institutions and individuals that have set the bar for industry excellence. The 2019 Banking Awards acknowledge the organisations and individuals within the banking and financial industries in the Middle East and Africa that drive global economic commerce, create capital and opportunities for economic growth within their regions, set the benchmarks for technological advancement and customer service, while maintaining high levels of regulatory compliance and corporate governance. The standout institutions working within retail, commercial, investment and private banking are recognized with these awards. In addition, special awards are given to outstanding CEOs in each region.
Honoured with the award for Best Commercial Bank of the Year Kenya 2019 to acknowledge and celebrate its innovation and leadership in the area of commercial banking in Kenya, Guardian Bank Limited has achieved a prominent position on the International Banker Middle East and Africa Banking Awards 2019 list.
Guardian Bank Limited, headquartered in Nairobi, Kenya, began in 1992 as Euro Finance Limited, a non-bank finance company, and was converted into a full-fledged commercial bank four years later. It is a part of the Dinesh Maganlal Chandaria (DMC) Group of Companies—engaged in paper manufacturing, petroleum, banking and real estate.The customer base of Guardian Bank has been mostly corporate and small and medium-sized enterprises, with the retail segment forming a smaller proportion, and its products reflect this. Customers of the bank are known by their individual identities rather than by their account numbers, and the bank maintains close rapport with its customers at the branch and head-office levels. To the bank's staff, a client is not just a number but an individual with aspirations and dreams that the bank wants to financially empower to achievement.
Since its inception, Guardian Bank has been growing consistently. The bank falls under "Tier 3" as per the categorisation done by the Central Bank of Kenya. Despite adverse economic conditions prevailing in Kenya, Guardian Bank has been able to maintain a satisfactory credit portfolio through rigorous vetting of new credit proposals and strict monitoring of borrower accounts. Non-performing loans have increased in the Kenyan banking sector over the last two years. The ratio of net non-performing assets of Guardian Bank stands at 3.00 percent (as of December 2018), which is one of the lowest in the industry. Guardian Bank's tariffs are also the lowest in the market. Last year, the bank was second runner-up for the "Lowest Charges" according to Think Business. Kenya is overbanked, with 43 commercial banks and a large number of micro-financing units and foreign-exchange bureaus—but nearly 60 percent of the market share is controlled by a few big international banks.
The bank's strategic policy revolves around three pillars: good governance including strict adherence of the statutory guidelines/ratios, strong adherence to know-your-customer and anti-money-laundering/countering-financing-of-terrorism policies, personalized and efficient services delivered by a loyal and dedicated workforce; and integration of practices that support sustainable development. The Bank's Board & Management believe that the future of banking will not be a continuation of the past and that the scope and speed of evolution in regulation, customer expectation and technology coupled with the emergence of new competitors—will transform banking as we know it, providing both opportunities and challenges for financial institutions.
Besides conducting business in an ethical manner, the bank goes the extra mile to prove that it cares for the society in which it operates by implementing policies that consider the surrounding community and environment; from helping needy children with education, contributing towards healthcare to planting trees, Guardian Bank has set an example for stewardship.
About International Banker: International Banker is the flagship brand of Finance Publishing. Finance Publishing is one of the world's leading sources of authoritative analysis on finance, international banking and world affairs. It delivers information with excellence through a wide range of accessible formats, from websites, newsletters and magazines, to conferences.
For more information, please visit http://internationalbanker.com &
https://internationalbanker.com/banking/banking-in-developing-markets/
Contact Info:
Name: Simon Brown
Email: Send Email
Organization: Finance Publishing
Address: Hamilton House, London WC1H 9BB United Kingdom
Website: https://internationalbanker.com/
Source URL: https://marketersmedia.com/guardian-bank-wins-international-banker-award-for-best-commercial-bank-of-the-year-kenya/522088
Source: MarketersMedia
Release ID: 522088