Greenvelope is a new, electronic invitation delivery system that aims to provide the best of traditional invites with the environmentally friendly technology of today, and is offering a free trial.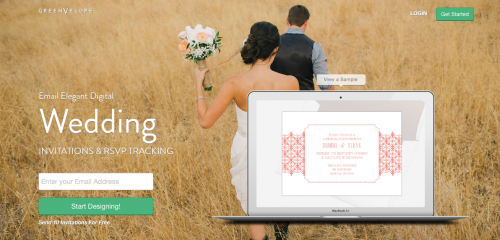 San Francisco, CA,, United States of America - - August 1, 2014 /MarketersMedia/ — Each year in the US there are 2.5 million weddings, millions of anniversaries, bar and bat mitzvahs, birth announcements, baby showers, graduation parties, and formal business events. For every event, an average of seventy five paper invitations are sent, which can cost thousands of dollars per event, and the invitation is merely discarded, creating environmental waste. Electronic invitations have yet to replace them because of their limiting designs and intrusive advertising. Greenvelope has been getting a lot of attention lately for offering an alternative that can lay to rest the paper invitation.
Thanks to its ad-free electronic invitation service, users can create personalized, high quality invitations that are feature packed and offer a superior experience to the traditional invitation on both sides. The service includes robust RSVP data collection, premium email delivery and interactive presentation.
Bootstrapped dorm-room startup Greenvelope was founded in 2008 by Washington University student Sam Franklin. The Seattle-based company began with a focus on wedding invitations and has since broadened its scope, designing invitations for any and all formal events. After celebrating 1,000,000 invitations sent, the company underwent a massive rebranding earlier this year, set to further set themselves apart from ad-heavy competitors.
The free trial allows individuals to make use of the HTML5 Canvas, perfect for both computers and mobile devices, with a personalized animated envelope that can be opened to reveal the invitation. Greenvelope is currently offering the free trial from their homepage, and allows users to send up to 10 cards to get a feel for the service- a perfect way to set up a dinner party.
Franklin says it is the company's commitment to design quality and customer service that sets Greenvelope apart. "I place tremendous importance on customer service. Customers appreciate an online invitation service where they can talk to a person on the phone to ensure the invitation is perfect for their special day. I find I learn so much from talking with customers – they share new ideas and it is fun to hear how excited they are about the product. As part of our commitment to sustainability, we donate a percentage of every sale to Mountains to Sound, a nonprofit that maintains forests. We are serious, authentic, and our free trial we ensure you never need a paper invite again."
According to reviews, Greenvelope is even helping business customers achieve record audience engagement. Enterprise customers Allscripts has found, "Greenvelope allows us to more easily connect with a hard to reach community in a warm inviting format. 85% Open Rate to C Level executives was unheard of before Greenvelope."
About Greenvelope:
Greenvelope creates seamless correspondence between the bride & groom and their guests, by offering a beautiful selection of designs and event-specific functionality, creating the perfect coupling of traditional appearance with contemporary delivery. Their diverse collections of electronic invitations are elegant for weddings, playful for a 21st birthday and formal for corporate events.
Contact Info:
Name: Joe Bragg
Organization: Brandoutreach
Source URL: https://marketersmedia.com/greenvelope-launches-free-trial-of-new-paperless-invitation-product/57623
For more information, please visit http://greenvelope.com
Source: MarketersMedia
Release ID: 57623