Global VNA & PACS Market Research Report 2018-2023: Provides pin-point analysis for changing competitive dynamics.The report covers market landscape and its growth prospects over the coming years. It also includes a discussion of the key vendors operating in this market.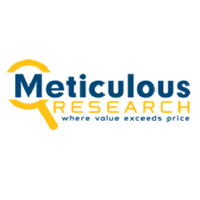 Pune, India - June 14, 2019 /MarketersMedia/ — Global VNA & PACS market has shown strong growth pattern in recent year's majorly due to growing investments in the medical imaging market, technological advancements in diagnostic imaging modalities, rising geriatric imaging volumes, rapidly growing big data in healthcare, rising focus on connected care, and growing health IT and EHR adoption. However, longer product lifecycle of VNA and budgetary constraints may hinder the market growth to some extent.
Meticulous Research® in its latest publication on global VNA & PACS market states that the global VNA & PACS market will increase at a CAGR of 7.2% from 2018 to 2023 to reach USD 3,874.0 million by 2023. Wherein, geographically, North America commanded the largest share in this market followed by Europe. The major share of North America is primarily attributed the presence of major health IT and VNA & PACS companies in the U.S., advanced healthcare and health IT infrastructure, increasing demand for standard-based medical image archiving and non-DICOM content management, technological advancements in diagnostic imaging modalities and image management solutions, rapid growth in geriatric imaging volumes, growing adoption of VNA and cloud computing, and rapidly growing big data in this region.
Download free sample report and gain crucial industry insights @ https://www.meticulousresearch.com/download-sample-report/?cp_id=4440
The report provides meticulous analysis of global VNA & PACS market by segmenting it on the basis of procurement model (departmental PACS, enterprise PACS, departmental VNA, enterprise VNA), delivery model (on-premise VNA, hybrid VNA, fully cloud-based VNA), VNA vendor type (PACS vendors, independent software vendors, infrastructure vendors), end-user (hospitals, diagnostic imaging center, others), and geography. Wherein, among procurement models for PACS, departmental PACS commanded the largest share in this market, majorly due to significant adoption of PACS in radiology department where majority of the imaging studies are handled, managed, and stored; and rising incorporation of PACS into other specialties such as cardiology, ophthalmology, oncology, endoscopy, tele-radiology, dermatology, pathology, neurology, and dentistry. While for VNA procurement model, enterprise VNA commanded the largest share due to growing focus on enterprise imaging, and multi-departmental and multi-site access to images for effective collaborative care.
The key players analyzed in the global VNA & PACS market are Agfa HealthCare, BridgeHead Software Limited, Carestream Health, Inc., FUJIFILM Medical Systems U.S.A., GE Healthcare, Hyland Software, Inc., Merge Healthcare Inc. (IBM), Mach7 Technologies, McKesson Corporation (Change Healthcare), Novarad Corporation, Koninklijke Philips N.V., Siemens Healthineers, Sectra AB, and INFINITT Healthcare CO.
Browse in-depth Report on hhttps://www.meticulousresearch.com/product/vna-market-pacs-market-forecast/
Key Topics Covered in This Report:
1. Introduction
1.1. Market Definition
1.2. Currency and Limitations
1.2.1. Currency
1.2.2. Limitations
1.3. Key Stakeholders
2. Research Methodology
2.1. Research Process
2.1.1. Secondary Research
2.1.2. Primary Research
3. Executive Summary
4. Market Insights
4.1. Introduction
4.2. Drivers
4.2.1. Growing Investments in the Medical Imaging Market
4.2.2. Technological Advancements in Diagnostic Imaging Modalities
4.2.3. Rising Geriatric Imaging Volumes
4.2.4. Rapidly Growing Big Data in Healthcare
4.2.5. Growing Health IT and EHR Adoption
4.3. Restraints
4.3.1. Longer product lifecycle of VNA
4.3.2. Budgetary Constraints
4.4. Opportunities
4.4.1. Integration of PACS/VNA with EMR
4.4.2. Penetration of Artificial Intelligence (AI) in Medical Imaging
4.4.3. Hybrid & Cloud-Based Solutions Represent High-Growth Opportunities
4.4.4. Rapidly Growing Field of Telehealth
4.5. Challenges
4.5.2. Data Migration
4.5.3. Lack of Interoperability
4.6. Market Share Analysis, by Key Players
5. PACS Market, by Procurement Model
5.1. Introduction
5.2. Departmental PACS
5.2.1. Radiology PACS
5.2.2. Cardiology PACS
5.2.3. Others
5.3. Enterprise PACS
6. VNA Market, by Delivery Model
6.1. Introduction
6.2. On-Premise VNA
6.3. Hybrid VNA
6.4. Fully Cloud-Based VNA
7. VNA Market, by Procurement Model
7.1. Introduction
7.2. Enterprise VNA
7.2.1. Multi-Departmental VNA
7.2.2. Multi-Site VNA
7.3. Departmental VNA
8. VNA Market, by Vendor Type
8.1. Introduction
8.2. PACS Vendors
8.3. Independent Software Vendors
8.4. Infrastructure Vendors
9. VNA & PACS Market, by End User
9.1. Introduction
9.2. Hospitals
9.3. Diagnostic Imaging Centers
9.4. Others
10. VNA & PACS Market, by Geography
10.1. Introduction
10.2. North America
10.2.1. U.S.
10.2.2. Canada
10.3. Europe
10.3.1. Germany
10.3.2. U.K.
10.3.3. France
10.3.4. Italy
10.3.5. Spain
10.3.6. RoE
10.4. Asia-Pacific
10.4.1. Japan
10.4.2. China
10.4.3. India
10.4.4. Rest of Asia-Pacific (RoAPAC)
10.5. Rest of the World (RoW)
10.5.1. Latin America
10.5.2. Middle East & Africa
11. Company Profiles (Business Overview, Financial Overview, Product Portfolio, Strategic Developments)
11.1. Agfa-Gevaert Group
11.2. BridgeHead Software Ltd
11.3. Carestream Health, Inc.
11.4. FUJIFILM Medical Systems U.S.A., Inc.
11.5. GE Healthcare
11.6. Hyland Software, Inc.
11.7. INFINITT Healthcare Co., Ltd.
11.8. Merge Healthcare Inc. (An IBM Company)
11.9. Mach7 Technologies
11.10. McKesson Corporation (Change Healthcare)
11.11. Novarad
11.12. Philips Healthcare
11.13. Siemens Healthineers
11.14. Sectra AB
12. Competitive Landscape
12.1. Introduction
12.2. Key Player Analysis
12.3. Partnerships, Agreements, Strategic Alliances & Collaborations
12.4. New Product & Service Launches, Upgradations & Enhancements,
by Leading Players, 2015-2018
12.5. Mergers & Acquisitions
12.6. Expansion
13. Appendix
13.1. Available Customization
Download free sample report and gain crucial industry insights @ https://www.meticulousresearch.com/download-sample-report/?cp_id=4440
Contact Info:
Name: Khushal
Email: Send Email
Organization: Meticulous Market Research Pvt. Ltd.
Address: Pune, India
Phone: +91-744-7780008
Website: https://www.meticulousresearch.com/product/vna-market-pacs-market-forecast/
Source URL: https://marketersmedia.com/global-vna-pacs-market-will-reach-usd-38740million-by-2023-meticulous-research/524635
Source: MarketersMedia
Release ID: 524635