Les Cochran is launching "GET EVEN: Detroit Thorn Birds Defy Mafia" the third book in his historical crime fiction series. It's available online from Amazon, Barnes & Noble, iTunes.More information available here: http://www.LesCochran.com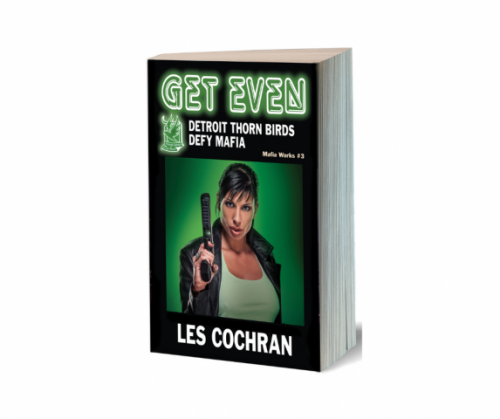 Weaverville, United States - February 19, 2019 /PressCable/ —
What does a former university president do in his retirement? Les Cochran, has become a fiction author. He began his education career teaching high school in inner-city Detroit. He witnessed the city's demise following the riots of 1967. Les Cochran is launching "GET EVEN: Detroit Thorn Birds Defy Mafia." The book is set to go live February 19th, 2019 and is available from Amazon, Barnes & Noble, iTunes online. It's expected to become a big hit with fans of the historical fiction and crime fiction worlds.
More information on the book can be found here: http://www.LesCochran.com
This is the 3rd book in the "Detroit Thorn Birds Defy Mafia" series. It's the sixth book Cochran has authored. The book was written with the aim in mind to tell the story of life in Detroit in the 1980s when the mafia and drug gangs were competing with one another for control.. There's also particular excitement about this launch because it continues the story of how Det. Clark Phillips and his elite task force face the new wave of organized street gangs pouring massive amounts of heroin onto the streets of Detroit using underage kids as traffickers..
GET EVEN: Detroit Thorn Birds Defy Mafia sets its main focus on sharing how drug lords fought to be at the top, even if it meant killing a friend. The rational for killing was MONEY; several gangs were making millions of dollars a month. They did whatever it took to be at the top. As a result, someone was always trying to 'get even.' . Readers will likely find a particular interest in the twists and turns Cochran uses to develop both his good guys and bad guys. The payoff is a doozy..
When asked about why he wrote the book, Cochran said:his inspiration for writing this series comes from real life experiences;"I was there, I taught and coached basketball at Western High School in Detroit."
Cochran has hopes that the book will help readers understand the city's corruption and decline, as well as the preserverance of residents who continued living there. At one point after much research Cochran realized his book's storyline was focusing more on drug gangs than the mafia, which was the original intent of the series. Thus, Cochran cleaverly revised the storyline to more acurrately reflect the interaction between the mafia and the many drug gangs competing to control their financial intake..
In a recent interview, the author expressed special thanks to former Detroit FBI Agent, Oscar Westerfield and current Detroit journalist and crime historian, Scott Burnstein for their continued support in reviewing his work.
""Cheers to readers everywhere" says Cochran, "I love to research and write, but feedback from readers make my day."
Les Cochran's GET EVEN: Detroit Thorn Birds Defy Mafia is being released by Bookstand Publishing. Those interested in learning more about the book can visit here: http://www.LesCochran.com
Contact Info:
Name: Lin
Email: Send Email
Organization: Les Cochran, Author
Address: 26 Endless View Drive, Weaverville, North Carolina 28787, United States
Phone: +1-239-777-7646
Website: http://www.LesCochran.com
Source: PressCable
Release ID: 483891