Jeffrey Simon, an Eagle Scout from Chicago, Illinois who happens to be openly gay is producing a new web-based video series called Camp Abercorn which he hopes will bring a new light to the BSA's stance on not allowing gay adult leaders.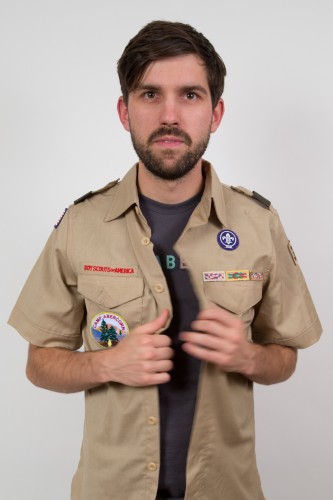 Park City, Utah,, United States - - January 18, 2014 /MarketersMedia/ — Jeffrey proudly served the BSA for 16 years, earned the rank of Eagle Scout and served in many leadership roles including serving 3 years on summer camp staff. He is very proud of his scouting background and what he learned from his time with the organization.
"I learned more from the Boy Scouts than any other organization. I made some of the best friends I'll ever know. I had my first leadership position, and even my first love." Says Jeffrey in a recent interview.
He went on to say this about his time with the BSA: "From my first Patrol Leader position at age 12 to my two years serving as (Order of the Arrow) Lodge Chief, I learned that running an organization is messy. That not everyone agrees, especially on matters of morality and family values. I learned to voice my opinion strongly while respecting the positions of others. I learned to be self-reliant. I was surrounded by friends . . . brothers . . . who taught me when to speak with my heart and when it was best to keep my mouth shut. You could argue that in many ways I learned how to be gay."
The BSA saw, in 2012, the lowest number of new Cub Scout registrations since 1953 and over the past 15 years, membership has declined by 27%. Jeffrey feels that this is due in large part to the aged policies on banning gays from being members and the bad publicity the BSA has seen because of it.
"As Boy Scout stigma continues to worsen, more and more parents are keeping their children away from the organization. Who is really losing out because of this debate? It is our youngest boys who may never get to experience the tremendous amount of good fun and education that the program offers," Jeffrey stated.
Jeffrey went on to explain what he thinks people should do to help the BSA understand the flaws with its policies and his answer was, well different to say the least. "What should we do? Should you mail your Eagle Scout certificate to Irving, Texas (BSA headquarters) in protest of gay rights? Should you refuse to be part of an organization that discriminates? I could be wrong but I urge you to take a different approach. I say get involved and teach acceptance. Change is coming but it's going to take much longer if we all jump ship and leave the organization in the hands of those who condone discrimination."
http://www.youtube.com/watch?v=C9ady1GexkM&feature=youtu.be
This is the basis for why Jeffrey, through his production company Gray Oak Productions in Los Angeles, California, has decided to make this series called Camp Abercorn .
Boy Scout summer camp is one of the greatest highlights of the year for every boy and the staff that serves them. It gives boys the opportunity to be independent and to participate in activities that they may not be able to experience elsewhere. Summer camp gives these boys the opportunity to be true leaders and to learn the skills needed to be successful later in life.
Jeffrey stated that "Camp Abercorn is my attempt to show the truth of what summer camp is really like, especially for the young men who are charged with the task of being the staff for the camp. It shows the joy of becoming familiar with nature and the outdoors as well as the dark side of living alone without parents. It's about being faced with the choices of men when you're only a boy."
There have been many movies made about summer camps over the years but as Jeffrey says, they don't portray reality. "In most summer camp shows, either adults teach nice life lessons and everybody's happy or there are drugs and free spirits without consequences. This is not what really happens at Boy Scout summer camp."
Jeffrey and some of his crew are currently at the Sundance Movie Festival walking around (in their Boy Scout uniforms) helping patrons have an enjoyable experience while also attempting to get the word out about Camp Abercorn.
Jeffrey says that it will take approximately $210,000 to produce the 7 part series and hopes to find like-minded people to help support the production of Camp Abercorn.
Join the Facebook community to stay up to date with the progress and to help spread the word about Camp Abercorn.
Contact Info:
Name: Jeffrey Simon
Organization: Gray Oak Productions
Address: 1859 N. Easterly Ter. Los Angeles CA 90026
Phone: (708) 436-3858
Source URL: https://marketersmedia.com/gay-eagle-scout-takes-fresh-approach-to-bsa-policy-with-new-web-series/31113
For more information, please visit http://www.campabercorn.com
Source: MarketersMedia
Release ID: 31113