Healthcare Heroes has announced its campaign for people to show their thanks to the healthcare community through gratitude videos, with $50 donated for every uploaded video and a $100,000 target.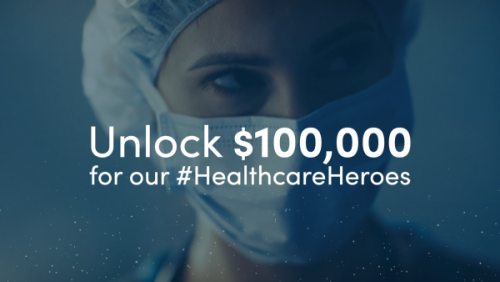 Dallas, United States - May 30, 2020 /PressCable/ —
DHD Films, Tribute, and Energy Transfer have announced their Healthcare Heroes campaign for people wanting to show their gratitude for healthcare workers around the world.
More information is available at https://www.tribute.co/healthcareheroes OR https://www.dallashealthcareheroes.com
The announced campaign allows people to upload a video of themselves talking of their gratitude for a specific healthcare professional or the entire healthcare front line. With each submitted video Energy Transfer are donating $50, with a $100,000 target.
In the current global climate healthcare professionals are putting their lives on the line to help keep the pandemic at bay. The Healthcare Heroes campaign was created to allow people to show appreciation of their care and sacrifice.
Founded by DHD Films Founder and Creative Director Shezad Manjee, the Healthcare Heroes campaign was inspired by his wife Sofia, a healthcare professional herself.
When asked if she has any hesitation about going to work during the time of crisis Sophia, instantly replied: "This is the time my patients and their families needs us most."
Motivated by the response, Shezad wanted to find a way to say thank you to her, and the other healthcare professionals around the world who were risking their lives for their communities.
Shezad created the Healthcare Heroes campaign and began a pro-bono partnership with Tribute, an online video collection service, which allows people to upload their gratitude videos to the platform.
Healthcare Heroes has now secured $100,000 from Energy Transfer, who will unlock $50 for every video that is submitted to Tribute.
The campaign is looking for people from around the world to upload videos to help reach the $100,000 target and show their thanks to the healthcare community worldwide.
DHD has put together a video explaining the campaign which can be seen here https://dhdfilms.com/healthcareheroes and will be creating the world's largest collection of gratitude messages for the medical community worldwide.
Shezad has been featured in three news stories already about the campaign – you can see the FOX News interview at: https://www.fox4news.com/news/local-charities-ask-for-support-on-north-texas-giving-tuesday-now OR watch the spotlight on this campaign with Jody Dean https://dfw.cbslocal.com/tag/jody-dean/ OR see the spotlight on the DMagazine website at: https://www.dmagazine.com/frontburner/2020/05/leading-off-5-5-20/
In the DMagazine spotlight on frontburner, they mention to see the video that will make you cry – well here is one of the compilations from the campaign – https://app.frame.io/presentations/ff0d2024-b3e8-4acc-bfd7-19ad56fdc3ec
In addition, this video campaign has been spotlighted by the Dallas Regional Chamber on their website – learn more at: https://www.dallaschamber.org/dhd-films-launches-healthcareheroes-campaign-with-100000-gift-announcement/
When Parkland Foundation featured this campaign in their newsletter, it was a huge honor for the studio and its partner, Energy Transfer. See the newsletter at: https://www.istandforparkland.org/emailviewonwebpage.aspx?erid=1973677&trid=034698f8-e190-45df-afec-4a0fedf943d3
Interested parties can find more information by visiting the website mentioned above.
Contact Info:
Name: Hussain Manjee
Email: Send Email
Organization: DHD Films
Address: 2500 Farrington Street Suite 120, Dallas, TX 75207, United States
Website: http://www.dhdfilms.com
Source: PressCable
Release ID: 88959648