In Change Makers, Volume 5, author Mila Simic highlights how she embraced the art of manifestation to live life on her own terms.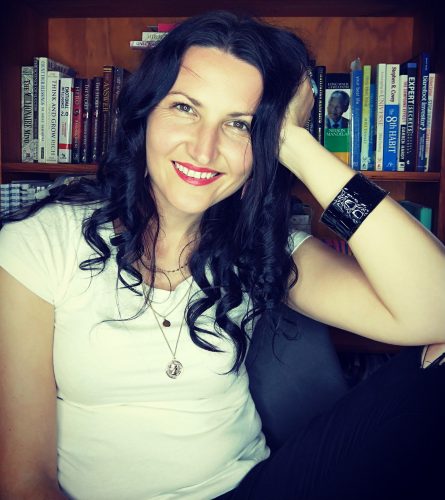 Melbourne, Australia - December 14, 2020 /MarketersMedia/ — Melbourne, Australia — Dec. 14, 2020 — Many nights growing up, Mila Simic would cry herself to sleep, asking for help navigating through a poverty-stricken and lonely childhood in the small town of Subotica in the former Yugoslavia.
On those dark nights, she asked for some sign of her purpose in life, some reassurance that everything would be OK.
It wasn't until she decided to be open-minded, follow her heart, and learn how to manifest the life she wanted that everything began shifting, and she began attracting more positive experiences and outcomes.
Now, Simic is sharing her personal story in the new book "Change Makers: 21 Transformational Stories From Women Making An Impact In The Lives Of Others (Volume 5)." The book includes chapters written by women, including tech leaders, health experts, artists, healers, entrepreneurs, and coaches from across the world, who each share their transformative journeys to serve others, create meaningful businesses, and enrich lives.
Released this month, Change Makers has topped multiple Amazon bestseller charts in the USA, Australia and Europe.
Over time, Simic's sense of purpose grew beyond just changing her own life. Today she is a helping practitioner, spiritual mindset coach, author, speaker, and creator of Manifestor's Way, a global lifestyle community designed to support the transformation of ambitious and empowered women ready to manifest radiant happiness, epic wealth, and radical self-love.
"My purpose grew bigger as I became happier with the new me and as I started loving myself and believing I deserve all the goodness, happiness and abundance that this life has to offer," she said. "We all deserve to be happy and abundant in each area of our lives."
Through her popular digital courses, group and 1:1 coaching, and free daily inspirational content and trainings, Simic empowers women to harness manifestation and the Law of Attraction to help themselves achieve all of their dreams.
Her ultimate goal is to impact as many "beautiful and limitless humans" as she can.
"I love working with my clients to dig deep inside together or in groups as I introduce them to the mind-blowing mastermind Manifestor's Mindset Makeover," Simic said. "I am so excited to share the wealth of knowledge and experience I've gained as I empower women who want to level-up their lives and still be true to themselves."
Simic was chosen to share her story in the fifth volume of Change Makers by Emma Hamlin, the book's publisher. The founder of Change Maker Press, Hamlin is herself a bestselling author, publisher, and strategic book coaching and marketing expert who founded her company to provide a space for women to be seen and heard.
"I wanted to share my life, my struggles and the awakenings that made me who I am today," said Simic. "Being a bestselling author and sharing what I did means so much to me. I want people to know that no matter how much they struggle in life, they can find happiness too."
Learn more about Mila Simic at www.milasimic.com and on her Facebook group https://www.facebook.com/groups/themanifestorsway.
Learn more about the Change Maker project and purchase the book on Amazon at https://www.amazon.com/dp/B08P9HM43Z. Follow and tag Change Makers on social media using the hashtag #changemakersbook.
Contact Info:
Name: Mila Simic
Email: Send Email
Organization: Change Maker Press
Website: http://www.milasimic.com
Source URL: https://marketersmedia.com/from-poverty-to-abundance-mindset-coach-mila-simic-shares-her-inspirational-story-of-transformation-in-change-makers/88989741
Source: MarketersMedia
Release ID: 88989741