If you need a real challenge try eating just one of the natural Raw Organic Cacao Nibs from Freedom Superfoods. Californians in the Monterey area will have a chance to check them out first hand at the Monterey Organic Grower Summit December 12th and 13th, 2018.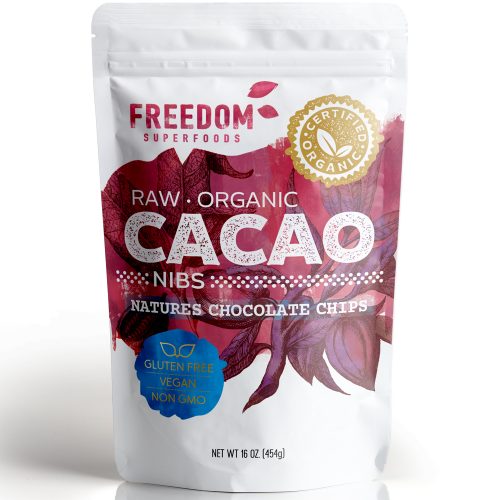 Sarasota, United States - December 11, 2018 /MarketersMedia/ — Cacao is certainly getting more popular all the time as a healthy, energizing alternative to chocolate. Freedom Superfoods has been answering the call for quite some time now, offering a 100% Natural Raw Organic Cacao Nibs premium-quality product at both their online store and on the Amazon marketplace. For those in Monterey, CA who haven't had a chance to try delicious, natural and healthy Cacao can have a chance to do so first hand at the regionally popular Monterey Organic Grower Summit December 12th and 13th, 2018, where Freedom Superfoods will be setting up and making available their all natural, organic product line. The excitement surrounding the event is high.
"We love going to things like the Monterey Organic Grower Summit," commented a spokesperson from Freedom Superfoods. "We are completely devoted to providing the best in organic, natural products that can deliver superfood benefits. We think our Raw Organic Cacao Nibs are going to be a huge hit at the summit."
The Monterey Organic Grower Summit works to connect organic growers and producers with supply chain and service providers, for two days of education, information, and networking opportunities.
Unlike many cacao nibs on the market come which come with shells mixed in the package, making for a much less enjoyable experience, there are no quality concerns like this from the Freedom Superfoods Cacao Nibs. In fact, the company even makes sure the packaging is top-quality with a tight sealing top as well as special UV coating something quite necessary to keep the cacao nibs fresh.
The Freedom Superfoods Raw Organic Cacao Nibs are ethically sourced from small, single origin family farms in the Caribbean, where the farmers are treated ethically and respectfully for their vitally important work.
Cacao has been described by leading natural health experts as a superfood alternative to chocolate, having a chocolate-like taste, but delivering real benefits when it comes to natural energy boosts and enhancing sleep. It is also a very alkalized food product, something important to many people who follow diets that emphasize high-alkalized foods and drinks. Some even say it can cure certain food cravings.
The Freedom Superfoods Raw Organic Cacao Nibs consistently wins very favorable feedback.
Janine S., from California, recently said in a five-star review, "The Freedom Superfoods Raw Organic Cacao Nibs is my favorite snack. Beyond that, I even use them very successfully for baking. Totally recommended."
For more information be sure to visit https://www.freedomsuperfoods.com
or Amazon.com
Contact Info:
Name: Mary Taylor
Email: Send Email
Organization: Freedom Superfoods
Address: 4283 Express Lane Sarasota 34249 Florida USA
Phone: 941-909-2023
Website: https://www.freedomsuperfoods.com/
Source URL: https://marketersmedia.com/freedom-superfoods-presents-their-wildly-delicious-raw-organic-cacao-nibs-at-monterey-organic-grower-summit/458009
Source: MarketersMedia
Release ID: 458009