"Visualizations, affirmations, and therapy are great, but they don't result in law of attraction success. Instead, with true alignment it's like tuning into the radio station; put in the right frequency and get the radio station," says Tyler Watson, creator of the Complete Alignment Technique.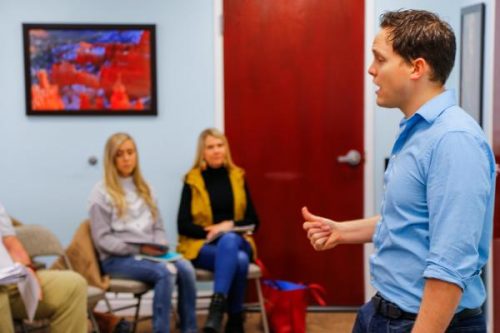 Herriman, United States - September 2, 2019 /PressCable/ —
Freedom Catalyst LLC will be holding a free webinar online on Wednesday, September 4, 2019 at 1:00 pm Eastern Time called "The Strangely Simple Process I Use to Help My Clients Manifest Tangible Financial and Lifestyle Results in Less than 24 Hours."
This webinar will reveal how to manifest happiness, love, success, and health. Participants will learn how to achieve success regardless of limiting beliefs, hidden issues, or past traumas.
Tyler Watson leads the presentation and says this webinar is a chance for people to hear how to lose weight, overcome allergies and beat gluten intolerance, find love, make money, and achieve success. Participants can ask questions live and get information not readily available through other channels.
In fact, the program Tyler Watson has created is groundbreaking it its approach because it is not through the use of affirmations, hypnotism or therapy.
"So many people who try to manifest the things they desire try to do it through visualization (subconscious) or positive thinking (conscious); or by trying to eliminate blocks and traumas (often with therapy). All of those modalities can be helpful," Tyler Watson says. "But my process, the Complete Alignment Technique, is less invasive and much quicker. Aligning with frequencies is not about pushing anything in or pulling anything out. It's like tuning into the radio station; you put in the right frequency and you get the radio station."
Many of Tyler's clients have achieved their goals within days or weeks of completing the process – and some have even had success in hours.
Stephanie said, about her experience with the Complete Alignment Technique, "I was sort of forced into doing the CAT on my gluten allergy before was mentally ready. I accidentally ate half my husband's sandwich before realizing I was eating his and he was eating mine. So, luckily, I had some time after lunch and went right upstairs and began to work on it. It took at least 90 minutes. I felt I had to go through the [treatment the] long way, not take the shortcuts. At first, my stomach was aching, but it went away as I did the treatment and I've had no headaches, which is my usual side effect. Still not believing or daring to hope. I asked if I could eat regular bread with my French toast the next day and got yes through muscle testing. So, I did and I've had a yummy cookie too and no side effects. I felt the need to anchor at least once a day since, but it seems to be holding. I can't wait to eat real pizza again! I'm so thrilled. It feels so strange, but good. THANK YOU, TYLER. THIS IS LIFE CHANGING!"
People interested in losing weight, overcoming allergies, finding love, making money, and achieving success can get access to the free webinar here: https://www.completealignmenttechnique.com/webinar.
About Freedom Catalyst LLC
Freedom Catalyst LLC was founded in 2018 and serves self help gurus, alternative health practitioners, and healers, as well as those interested in the Law of Attraction. It is known for helping clients align every cell in the body with the frequency of the most desired outcome, whether it's health, wellness, money, love, or success of another kind.
Contact Info:
Name: Tyler Watson
Email: Send Email
Organization: Freedom Catalyst LLC
Address: 5526 W. 13400 S. Suite 624, Herriman, UT 84096, United States
Phone: +1-877-881-2027
Website: http://enrollmentmasters.com
Source: PressCable
Release ID: 88914072