With the excessive stress and pressure put on first responders to "save the day" several push to talk service providers now making services free to use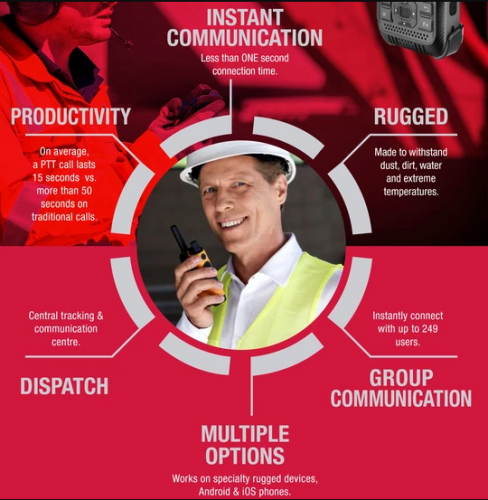 August 21, 2019 /MarketersMEDIA/ — The Push To Talk concept was invented by radio engineer Alfred J. Gross and introduced in the form of the well-known walkie-talkie. Between the years 1938 and 1941, this technology was perfected by Gross along with others in the industry, leading to the eventual creation of push to talk smart devices, phones, and other methods of communications.
Due to the ability for push to talk devices being online and a viable source of communication in emergency situations, and free from the constraints of cellphones, many service providers are no offering EMS workers, volunteer groups, police, firefighters, and other first responders access to free service, helping reduce the barriers and save more lives.
The mission of the free service is to enable the power of the voice, and first responders have real-work experience showing them how important it is to have instant communication capabilities across various teams and multiple jurisdictions. The availability of the free Push To Talk services are essential tools for saving lives and today, the managed version is available free from hurdles to various public safety organizations.
With the Peak Push To Talk services in place, users can be instantly connected with others around the world using live voice features. Search and rescue teams, 911 dispatchers, police, EMS personnel, and firefighters along with others use these services on a routine basis and in emergency situations to help overcome the challenges and difficulties associated with legacy radio technology, which is not only unreliable but expensive.
Thanks to more companies jumping on the bandwagon, even more companies are offering free services ensuring instant communication capabilities for those who need it the most. Now, user can utilize their personal phone or work phone to gain quick and easy access to encrypted and crystal-clear communication, then unlike the traditional radio, works between various jurisdiction and allows for an expansive range of live communication.
Most service providers offer enterprise-level services, offering an unlimited capacity to help users communicate securely and clearly across several responding units. This is the case even when experiencing that very common challenge for first responders of having to deploy outside of the typical service area. These solutions are helping to address the budget constraints for non-profit first responder organizations, too, such as volunteer fire departments.
While there has been some push to talk service providers that have offered free versions in the past, now more robust options with additional features and options are being launched, ensuring organizational control from any location someone may be.
With the availability of free push to talk services, team communication during an emergency and critical situations are improved, with many organizations seeing positive results in as little as a month. Without the help of these services, first responders and other users would still face serious challenges and have issues being able to coordinate with people beyond radio coverage distance. When every minute counts, having a source of reliable communication is vital and that's exactly what the push to talk services have to offer.
In addition to the free connectivity, which is full of features and options, the majority of service providers offering this provide additional options that are paid. While they may enhance the experience, these aren't required for clear and reliable communication with the push to talk device being used.
Contact Info:
Name: Peak PTT
Email: Send Email
Organization: PEAK PTT
Website: https://www.peakptt.com
Source URL: https://marketersmedia.com/free-push-to-talk-services-now-offered-for-first-responders/88910669
Source: MarketersMEDIA
Release ID: 88910669