Free Math Calculator has created a Home Loan Calculator that tabulates the monthly payment based on the total value and rate of interest as well as the total number of payments.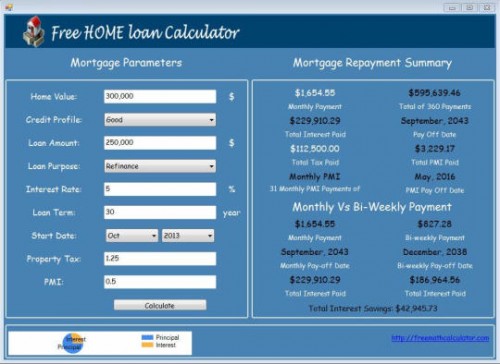 New York, NY,, United States of America - - December 4, 2013 /MarketersMedia/ — Getting a mortgage can be a daunting prospect, not only because of the amount of money involved but because of the complex means by which banks calculate the repayments. Many people feel confused by this process and wish to double check what the bank are doing to ensure they are paying the right rate, but doing so requires expertise in the field. Free Math Calculator have removed this barrier by creating a Home Mortgage Calculator that allows users to simply enter the parameters requested to get an accurate and detailed report on the loan.
The software offers a clear cut separation between input on the left hand side of the menu and the outcomes on the right hand side, asking for information including the mortgage parameters, the individual's credit rating, rate of interest and repayment schedule to give the most accurate summary of loan payments, total amount paid in interest and other factors that may affect consumer decisions.
The Home Loan Calculator can be downloaded direct from the Free Math Calculator website and comes with a complimentary unlimited license so users can use the calculator to compare loans from as many providers as they care to ask before making a decision with a greater degree of confidence.
A spokesperson for Free Math Calculator explained, "Home loans are a huge thing to commit to and it can be confusing to parse through the technical language and attractive offers to get down to what it really means to an individual to take on that responsibility. Our Home Loan Calculator has all the functions users need to calculate this accurately and none of the ones they don't need, so as not to create confusion. It means individuals can get an accurate appraisal of the true cost and commitment of a loan in moments."
About Free Math Calculator:
Free Math Calculator is a free software and study resource center specializing in math tools and applications for everything from school students to home owners. The website features study guides and flash cards as well as lists of equations and the calculators to input them to get the right answers. The site is well regarded by teachers and students alike.
Contact Info:
Name: Rob Stabile
Email: Send Email
Organization: Free Math Calculator
Phone: 212.219.3286
Website: http://freemathcalculator.com/free-home-loan-calculator.html
Source URL: https://marketersmedia.com/free-math-calculator-releases-home-loan-calculator-to-help-borrowers-understand-mortgages/27372
Source: MarketersMedia
Release ID: 27372