Forklift Training Systems has defied convention in the Forklift Training market with the release of their Forklift Train the Trainer courses. Further information can be found at https://www.forklifttrainingsystems.com and https://www.forklifttrainingsystems.com/training/forklift-train-the-trainer/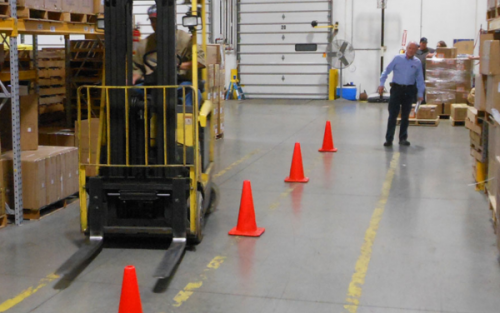 Newark, United States - November 7, 2017 /PressCable/ —
Forklift Training Systems today reflected on the release of its Forklift Train the Trainer Course nearly 20 years ago, which is still constantly evolving and adapting to the needs of the industry. The main aim was always to identify/fix forklift related hazards, provide trainers world class instruction/materials and provide them support over the long haul… and by defying convention, this one of a kind Forklift Train the Trainer experience did so, with a vengeance.
David Hoover, President of Forklift Training Systems, says: "We wanted to try something new with our Forklift Train the Trainer courses. Anyone familiar with forklift training will probably have attended sub-par forklift training at some point in their career. We felt this was a problem because forklift training is meant to make companies more secure, not just give a false illusion of security."
So as a welcome breath of fresh air, Forklift Train the Trainer courses instead offer an immersive 2-day training that is both challenging and interesting. Forklift Training Systems chose to make this move because safety training shouldn't have to be boring nor one-size-fits-all.
Mr. Hoover also said "We want to give our customers a safer work environment. With our Forklift Train the Trainer program, they have a new chance to start fresh with the best of the best. We want them to feel safe and secure whether they are a business, forklift operator, or pedestrian, as the result of using our Forklift Train the Trainer course. Trying something new is always a risk, but we believe it's a risk is worth taking."
Forklift Training Systems has been in business for 20 years and was established in 1998. Since day one, it has aimed to reduce workplaces accidents via exceptional forklift operator and trainer training.
Forklift Train the Trainer courses are available every few weeks across Ohio, Kentucky, and Indiana. Alternatively, they are cost effectively offered in-house at businesses anywhere in the U.S., if needing 4 or more trainers. For more information and pricing, please visit https://www.forklifttrainingsystems.com/training/forklift-train-the-trainer
For further information about Forklift Training Systems training and safety products, please visit them at
https://www.forklifttrainingsystems.com
Contact Info:
Name: David Hoover
Organization: Forklift Training Systems
Address: 10 Hilltop Dr. NE, Newark, OH 43055, United States
Phone: +1-614-583-5749
Website: http://www.forklifttrainingsystems.com/training/forklift-train-the-trainer/
Source: PressCable
Release ID: 261173