It doesn't take long for food to become contaminated, as a recent report revealed. That's one of the reasons it's important to keep a stockpile of survival food available, such as what is contained in Food4Patriots kits.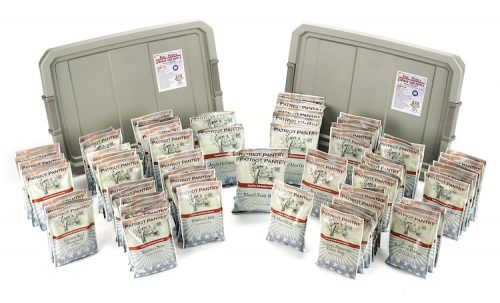 Nashville, TN, United States - September 12, 2016 /MarketersMedia/ — It's said that if people pick up food they've dropped within five seconds after it hits the floor, it's still good to eat. But a recent report from CBS News calls that rule of thumb into question. Researchers at Rutgers University say food can be contaminated in less than a second. Contributing to the contamination are factors including the amount of moisture present and the type of surface on which the food lands.
Officials at Food4Patriots understand how vital it is to keep food healthy and nutritious. That's why they put so much time and energy into making sure their survival food is packaged properly.
"We use space-age Mylar packaging for our re-sealable pouches," said 4Patriots Partner Allen Baler. "That's the stuff NASA uses in spacesuits to protect astronauts from solar-thermal radiation, so people know our food will be protected against all the elements Mother Nature could throw at it.
"Food4Patriots packaging provides a complete barrier against light, oxygen and moisture, the three things that will destroy food over time. These pouches cost us twice as much as the flimsy stuff that some companies use, but we insist on it because it's scientifically designed to guarantee that food will last for 25 years."
Each Mylar pouch is cleaned with CO2 gas before it is packed, forcing out any leftover oxygen. The pouches are then tucked inside tough, airtight, stackable totes that are discreet and store anywhere – basement, attic, garage, shed, cabin or even an RV.
Food4Patriots meals are offered in 72-hour, one-week, four-week, three-month and one-year kits. Because they have shelf lives of up to 25 years, it's not necessary to periodically rotate stockpiles. The food can be prepared in less than 20 minutes and requires only boiling water.
"Someday we could be hit by a crisis that will cause store shelves to empty quickly and roads to become impassable," Baler said. "People will need to feed themselves and their families. The best strategy for individuals is to stockpile good-tasting, nutritious, long-lasting survival food that will be ready and waiting for them when they need it most."
Food4Patriots provides emergency food products that are shelf-stable for 25 years. Food4Patriots survival food kits are made with food grown, harvested and packaged in the United States, and all of the meals are made without any genetically-modified products, preservatives or fillers. The kits are available in 72-hour, one-week, four-week, three-month and one-year supplies.
Contact Info:
Name: Tim Boyle
Email: Send Email
Organization: 4Patriots LLC
Source URL: https://marketersmedia.com/food4patriots-packaging-one-of-keys-to-long-shelf-life/132129
For more information, please visit http://www.4patriots.com
Source: MarketersMedia
Release ID: 132129