Food4Patriots customers say they appreciate the taste, packaging and long shelf life of the company's variety of emergency meals.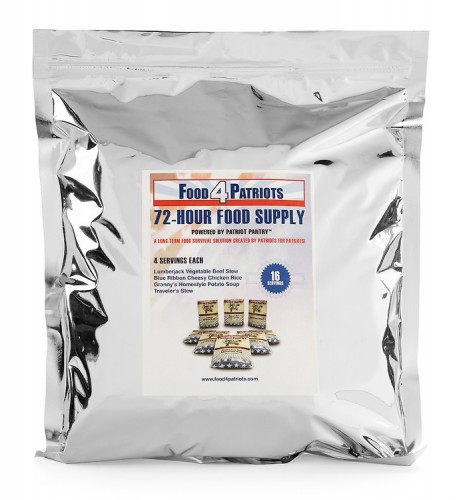 Nashville, Tenn.,, United States - - June 10, 2014 /MarketersMedia/ — There's a good reason why Food4Patriots has sold more than 13 million meals of its emergency food since launching less than a year ago. Customers are happy, they're telling others about it and they're coming back for more.
Such as former Girl Scout Wanda, who says that her training to always be prepared made her want to look into what Food4Patriots had to offer.
"I was always stockpiling food for emergencies, and other items…I have thrown away so much food, just because it's expired, and I haven't been able to get to it," she said. "When this came along I thought, 25-year life span. Wow."
Wanda's testimonial is just one of many that can be heard or read at the company's website. She and others appreciate the fact that the food in Food4Patriots' 72-hour, four-week and three-month emergency kits can be prepared in less than 20 minutes and requires nothing more than boiling water. It is kept in easy-to-store Mylar pouches, which eliminate air, moisture and light. Shelf lives are up to 25 years.
"It's one thing when a company spokesperson says how wonderful their products are, but quite another when customers speak out about those products," said Allen Baler, partner at Food4Patriots.
Food4Patriots Customers Speak Out
Jan H. is also impressed with the fact that her food will last for a long time.
"The life expectancy of your product is what attracted me," she said. "I like the fact that the package, once I moved the label to the inside of the lid, doesn't scream 'food storage' to unwelcome/prying eyes. My hope is that we never need to worry about surviving through hard times, but it certainly isn't looking good for the USA or the world right now."
Another customer, Frank S., said he likes the packaging of Food4Patriots food.
"The packages are good size and easy to use," he said. "I am recommending these to all my friends and family members to get these food packs for any emergency."
David D. said he appreciates the company's reliability and honesty.
"They speak the truth, they don't sell gimmicks," he said. "They perform what they say they'll do. You can bank on their words as far as what they say."
No matter how long food lasts, nobody wants to eat it if it's bland. Rolf K. is one of many Food4Patriots' customers who really enjoys the taste.
"The most important thing is your food tastes great," he said. "I've tasted two of the four entrees in one of the small packages and I now have a tub and three other small packages set away…Keep up the good work."
And, of course, there's something to be said for the peace of mind that an emergency food supply offers.
"I love your product…It allows me the feeling of being self-reliant to know my wife and I have the ability to survive an event of emergency," said Luther C. "I would rather have something and not need it than to need something and not have it."
"My purchase of Food4Patriots has indeed brought me peace of mind…all the different choices of nourishing, healthy, tasty and attractive meal choices are reassuring," said Lynn G.
Food4Patriots Food Choices
Among the foods that are part of the Food4Patriots' emergency kits are:
- Mountain Man Granola
- Apple Orchard Oatmeal
- Granny's Homestyle Potato Soup
- Blue Ribbon Cheesy Chicken Rice
- Ol' 49ers Hearty Chili
- Creamy Beef Stroganoff
- Frank's Five-Star Minestrone.
Those who order one of the Food4Patriots Emergency Kits also receive four reports: "Top 10 Items Sold Out After Crisis," "The Water Survival Guide," "The Survival Garden Guide" and "How to Cut Your Grocery Bills in Half."
Patriot Headquarters publishes articles, videos and news to help patriots become more self-reliant and independent from government and big business.
Contact Info:
Name: Tim Bates
Email: Send Email
Organization: Reboot Marketing
Website: http://www.Food4Patriots.com
Source URL: https://marketersmedia.com/food4patriots-customers-continue-to-sing-companys-praises/51143
Source: MarketersMedia
Release ID: 51143