Fluoryx, a leading specialty fluorochemicals provider, has announced the release of two new products: FC27-12 with CAS number 2062-98-8 and FC05-03 with CAS number 2160-89-6. These are supplied for research and commerce purposes across the globe.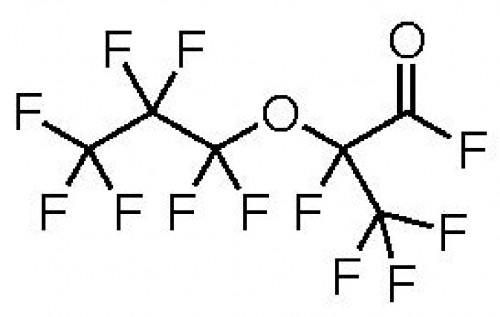 San Leandro,, United States - - November 12, 2014 /PressCable/ —
A leader in providing fluorochemicals for research, development, and commerce, Fluoryx has announced their two latest products. These are labeled as FC27-12 with CAS number 2062-98-8 and FC05-03 with CAS number 2160-89-6 and were created with the purpose of being used for both research and commerce related utilization. Fluoryx is recognized as being a reliable and high quality source for acid fluorides, with volumes ranging from grams to hundreds of tons per year. Fluoryx chemist, Yuhong Wang, PhD., has said the following regarding these new products:
 "HFPO Dimer (FC27-12)is a perfluorinated, reactive intermediate used to make many interesting products. It can be reacted by conversion to the alkali metal salt of the homologous carboxylic acid and pyrolyzed to produce perfluoropropyl vinyl ether (PPVE) which is a monomer used to make polymers such as PFA. It can be used to synthesize fluorinated surfactants, water and oil repellent surface coatings, as well as many other products."  
"FC05-03 is a low refractive index intermediate fluorinated acrylic monomer which, when converted to its corresponding polymer, possesses outstanding thermal and dimensional stability. Moreover, these fluorinated acrylic polymers exhibit outstanding optical, oleophobic, and hydrophobic properties. Applications include photolithography, hair styling and skin care formulations, component of contact lens polymers for improved oxygen permeability, and cladding material for optical fibers."
Due to its hazard classification, customers need to add Hazmat Shipping surcharge to their cart if they to order item other than 25g size and need their order to be shipped via air. In addition, all dangerous goods shipped by air must use Priority Overnight service. 
The prices for 2-perfluoroalkyl-ethyl-acrylate and other chemicals are listed under the products tab on the Fluoryx web page, allowing consumers access to all information they require in order to obtain the equipment that they require. 
The website currently only lists R&D quantities through their sales portal, but the company produces many in kilograms and upward to large commercial quantities. Consumers looking to acquire larger amounts of product are encouraged to contact Flouryx directly for a competitive price guide.
Contact Info:
Name: Irene Andriani
Organization: Fluoryx, Inc
Address: 1933 Davis St. Ste. 293 San Leandro, CA 94542
Phone: (510) 582-9365
Website: http://www.fluoryx.com
Source: PressCable
Release ID: 67982