Palette and Project Hosts have made available SecureCloud P2P, an ultra-secure AP Automation and Purchase to Pay cloud service for healthcare organizations.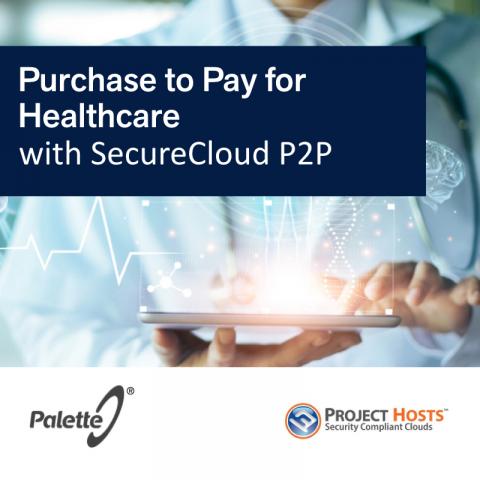 Chicago, United States - March 26, 2020 /PressCable/ —
Palette and Project Hosts have made available SecureCloud P2P, an ultra-secure AP Automation and Purchase to Pay cloud service for healthcare organizations. The two companies came together to design and deploy both private and public cloud environments offering unparalleled uptime, infrastructure, security, compliance, and support.
Healthcare organizations are looking to leverage technology to reduce the cost and inefficiency of their back office operations, and they need to ensure those solutions have the security standards the healthcare industry requires. SecureCloud P2P enables healthcare companies to capture vendor invoice data, process invoices with an approval workflow, automatically match POs, automate purchase requisitions and more.
Central to automating finance in healthcare is the elimination of paper processes and lengthy approval cycles with accounts payable automation and controlling indirect spend with purchase to pay automation, which is typically not handled by the ERP.
"Fraudulent practices are driving healthcare organizations to be more diligent with the security of the SaaS software platforms they use," said Michael Cichy, Palette Software, "As well, the growth in technology spend to shore up corporate back office processing is higher than ever."
By standardizing the ordering of goods and services, finance can reduce fraud, optimize expenditure, control indirect spend, negotiate discounts with key suppliers, and gain critical insights. To do this, Healthcare organizations need a robust AP Automation and Purchase to Pay platform that has the highest security standards, operating procedures and best practices in place.
Palette Software accreditations include SOC1, SOC2, HIPAA, GDPR Ready, and PEPPOL. Project Hosts accreditations include HITRUST, HIPAA, ISO 27001, FedRAMP, and DOD IL5.
Palette and Project Hosts have published a Whitepaper about the platform that is available for download: https://www.palettesoftware.com/whitepaper/purchase-to-pay-for-healthcare-with-securecloud-p2p/
About Palette Software
Palette Software is a market-leading vendor of financial process automation for domestic and global corporations. Palette solutions automate the connecting and matching of purchase orders, invoices and contracts, on-premise or in the cloud. Customers experience significant and measurable cost savings, productivity gains and operational excellence. Palette solutions are GDPR compliant and optimize financial management for more than 4,000 customers in 50+ countries. With 25 years of experience, Palette and its partners offer automation solutions for organizations of all sizes worldwide.
About Project Hosts
Project Hosts implements security and compliance on Microsoft Azure for the US Federal government, healthcare organizations, financial institutions and commercial enterprise. Project Hosts' pre-audited environments give organizations turnkey compliance for their applications, removing a key barrier to migration from on-premise deployments into Azure.
Project Hosts environments hold certifications and authorizations from ISO 27001, HIPAA, HITRUST, FedRAMP, and the DoD, including a DoD IL5 PATO. Project Hosts is just 1 out of 7 companies to achieve this authorization.
Healthcare organizations, federal, state and local government agencies, financial institutions and commercial enterprises rely on Project Hosts to ensure they have a cloud solution that meets their business needs, their budget and most importantly, protects their organization, employees and data from unauthorized access or theft.
# # #
For more information regarding Palette Software contact:
Michael Cichy
Palette Software
Phone: 508-341-8101
Email: Michael.cichy@palettesoftware.com
For more information regarding Project Hosts contact:
James Ford
Project Hosts
Phone: 814-790-2521
Email: james.ford@projecthosts.com
Contact Info:
Name: Michael Cichy
Email: Send Email
Organization: Palette Software Inc.
Address: 330 North Wabash Ave. 23rd Floor, Chicago, Illinois 60611, United States
Phone: +1-508-341-8101
Website: https://www.palettesoftware.com
Source: PressCable
Release ID: 88951125