Orlando Gastroenterology, P.A., established 2002, is a practice that serves the Central Florida community for their gastroenterology needs. The practice has 4 locations throughout Kissimmee, Clermont, Poinciana and Orlando.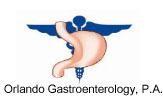 Orlando, United States - February 23, 2019 /NewsNetwork/ —
Orlando, FL (2/17/2019) – Orlando Gastroenterology announced today that Sri Pothamsetty, MD has been named Fellow of the American Gastroenterological Association (AGA), the nation's oldest medical society dedicated to disorders of the gastrointestinal (GI) tract. Through the fellowship program, AGA honors superior professional achievement in clinical private or academic practice and in basic or clinical research. Fellowships are awarded to AGA members whose accomplishments and contributions demonstrate personal commitment to the field of gastroenterology.
With Dr. Pothamsetty named Fellow of the AGA, his reputation as a leading gastroenterologist in Central Florida is further strengthened. Of the award, Dr. Sri Pothamsetty, MD, AGAF claims, "I am humbled and honored by this prestigious award. I will continue to devote my professional life to be worthy of this recognition."
David A. Lieberman, MD, AGAF, AGA Institute President said, "The American Gastroenterological Association is proud to announce the 2019 inductees for the AGA Fellowship program, which acknowledges AGA members with superior professional achievement in the field of gastroenterology with fellowship within our organization. We are proud of those members who have been recognized by their peers and community as being at the forefront of our field."
With Dr. Pothamsetty named Fellow of the AGA, the future of Orlando Gastroenterology, P.A. continues to shine. This news follows Dr. Pothamsetty's inclusion in Orlando Magazine's list of Orlando's Premier Doctors and his receipt of the Outstanding Physician Award from Surgery Partners. His dedication to providing the best possible care to his patients and passion for making endoscopic procedures comfortable, high-quality, and accessible led to the creation of the Millenia Surgery Center, LLC's endoscopy center, which is now open 6 days a week.
Led by Dr. Pothamsetty and the rest of the physician team, Orlando Gastroenterology, P.A has provided GI services to the greater Orlando area for over 15 years. This not only includes their state of the art endoscopy center, but also anorectal manometry, Fibroscan for quick and easy assessment of liver health, in-office management of internal hemorrhoids by CRH band ligation, ambulatory esophageal pH monitoring and small bowel capsule endoscopy, as well as clinical research and teaching medical students.
About the AGA
The American Gastroenterological Association is the trusted voice of the GI community. Founded in 1897, the AGA has grown to include 16,000 members from around the globe who are involved in all aspects of the science, practice and advancement of gastroenterology. The AGA Institute administers the practice, research and educational programs of the organization.
Contact Info:
Name: Breanne Deremer
Email: Send Email
Organization: Orlando Gastroenterology, P.A.
Address: 1507 S. Hiawassee Rd. Ste. 105, Orlando, FL 32835, United States
Phone: +1-407-445-9224
Website: https://orlandogastroenterology.com
Source: NewsNetwork
Release ID: 485074